An extreme provocation by the Atlanta Police and the State of Georgia
Weaponizing the powers of the state for political gain is abuse of power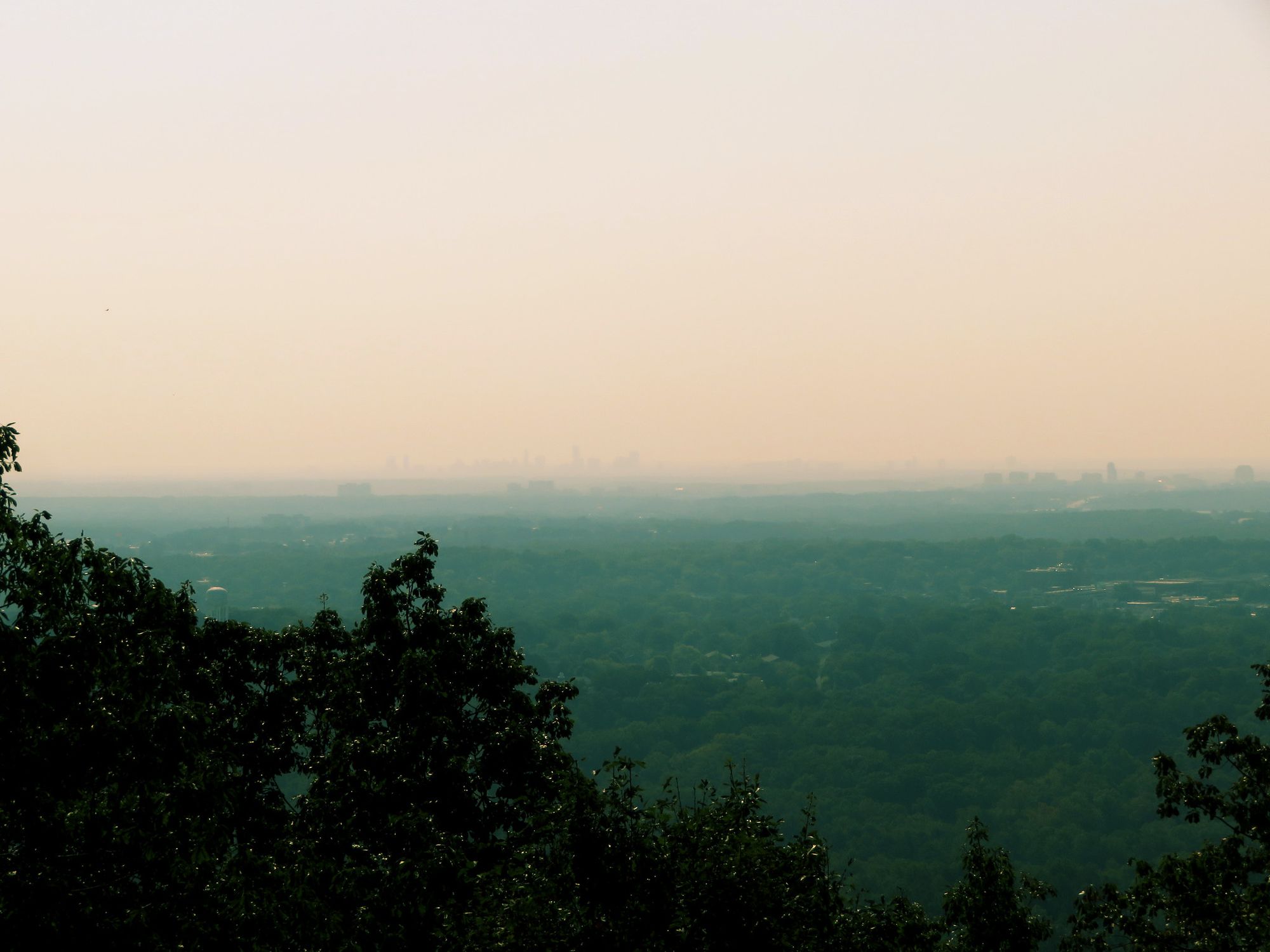 Today we have the latest installment of the Eve 6 advice column down below. The next one will be paid-only so subscribe if you don't want to miss it.
---
hot dog man dot gif: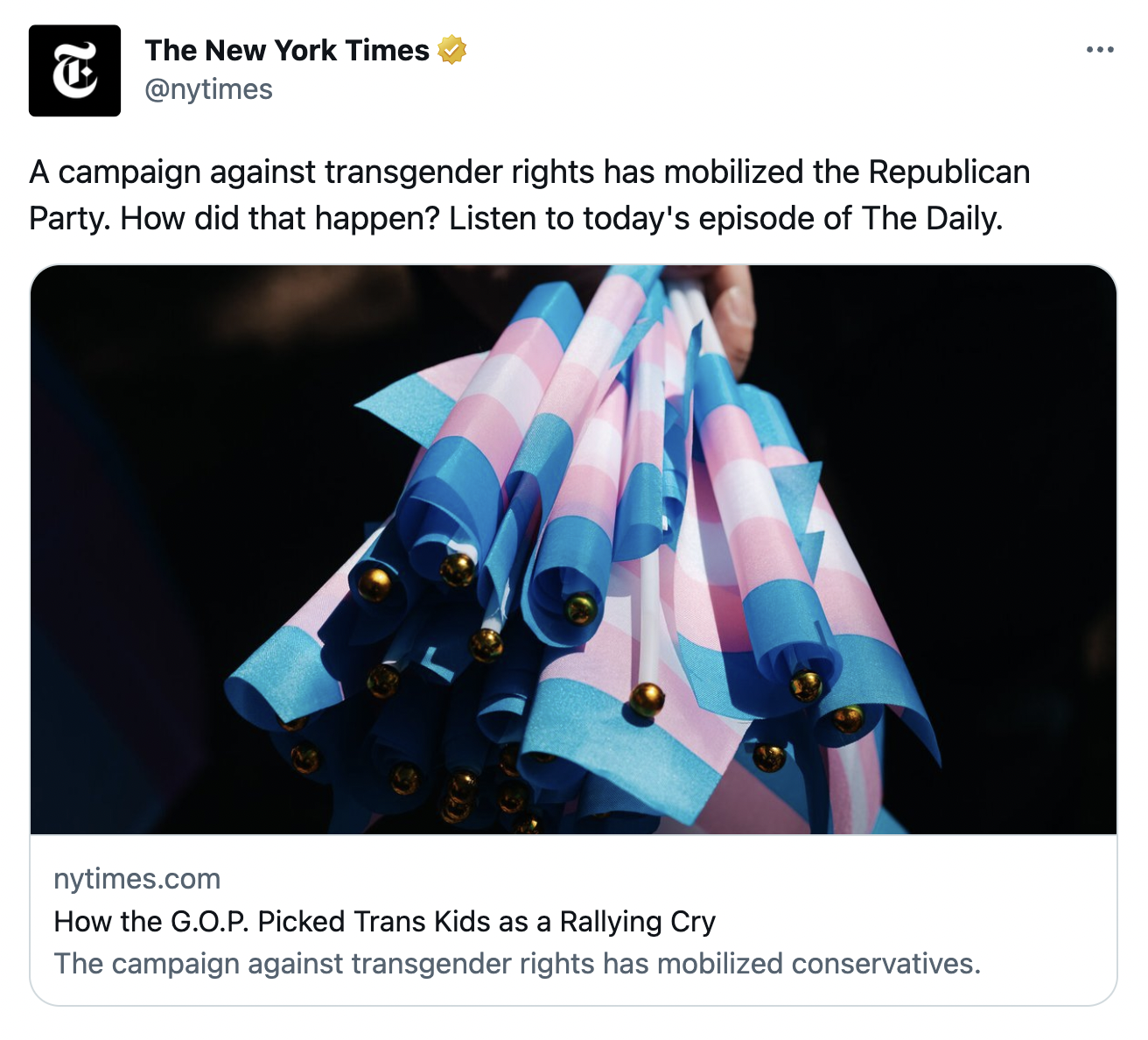 What was it that I said a while back about the New York Times' coverage of trans issues?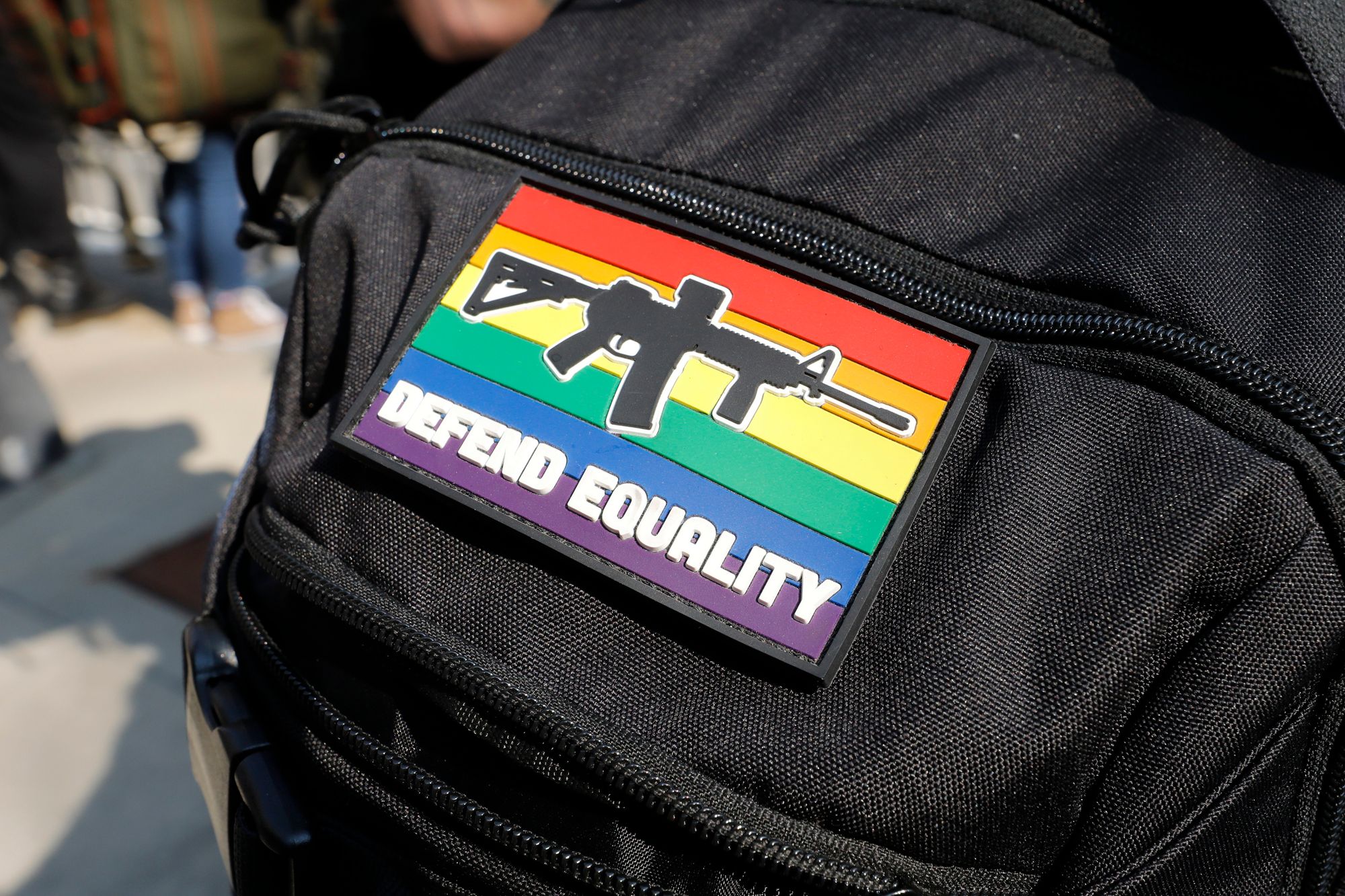 Listen I would love to stop writing about this shit. I would be very happy to not have to think about threats to the dignity of and lives of trans people as often as I do it's just that these neutral journalists won't shut the fuck up with their shitty little neutral questions.
We're not quite there yet but I'm worried that if they keep asking them for long enough they might finally get the answer they're really looking for.
---
In better media news I thought this was a good piece in the Columbia Journalism Review on how our pals over at Defector have managed to build a sustainable media outlet unbothered by the incessant need for growth at all costs. I wish more media companies – and companies in general for that matter – thought like this.
Defector's co-owners anticipate single-digit revenue growth from subscriptions this year. Meanwhile, one of their old enemies, Barstool Sports, was recently acquired by Penn Entertainment, a gambling conglomerate, for three hundred and eighty-eight million dollars. When I asked Ley about that, he didn't express envy. Instead, he compared Defector to a neighborhood bar, no pun intended. "This is our little business—we just need to have these margins, pay our employees, and that's it," he said. "No one who owns a bar is thinking, 'I can't wait for NBCUniversal to come offer to buy my bar for a hundred million dollars.' If you think of it as a business that you're running with your friends, it becomes a lot easier to just be like, 'Yeah, we're having success, and that's all we need.'"
That said there's a little capitalist in my brain that sees how enormous the subscription revenue is for some other (almost entirely right wing) newsletters and the cursed demon tells me I need to be doing something different to grow. But no. I make a decent living and I simply do not want to make Business Man Moves. I am not a salesman and I have no talent for publicity or promotion or for bullshitting people. The one move I have is to say if you appreciate what you get out of Hell World then I think it's nice to pay for it. Business Mindset Bosses hate this one weird trick.
You might also consider buying the feel good book of the summer.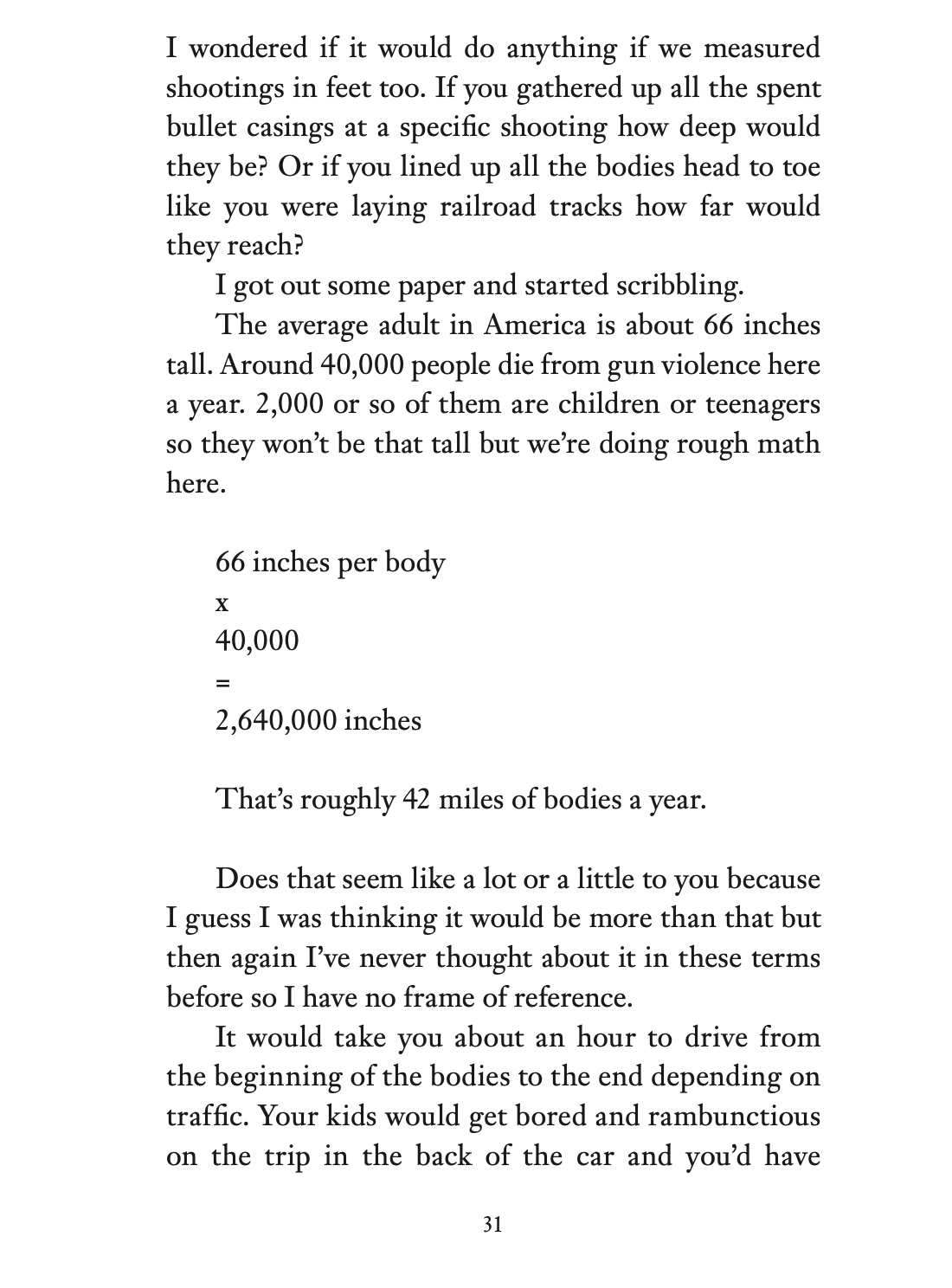 ---
First up today is a report from the Atlanta Community Press Collective on the latest fascistic escalation by authorities in Georgia in their attempts to intimidate and stifle citizens' right to protest against the building of Cop City.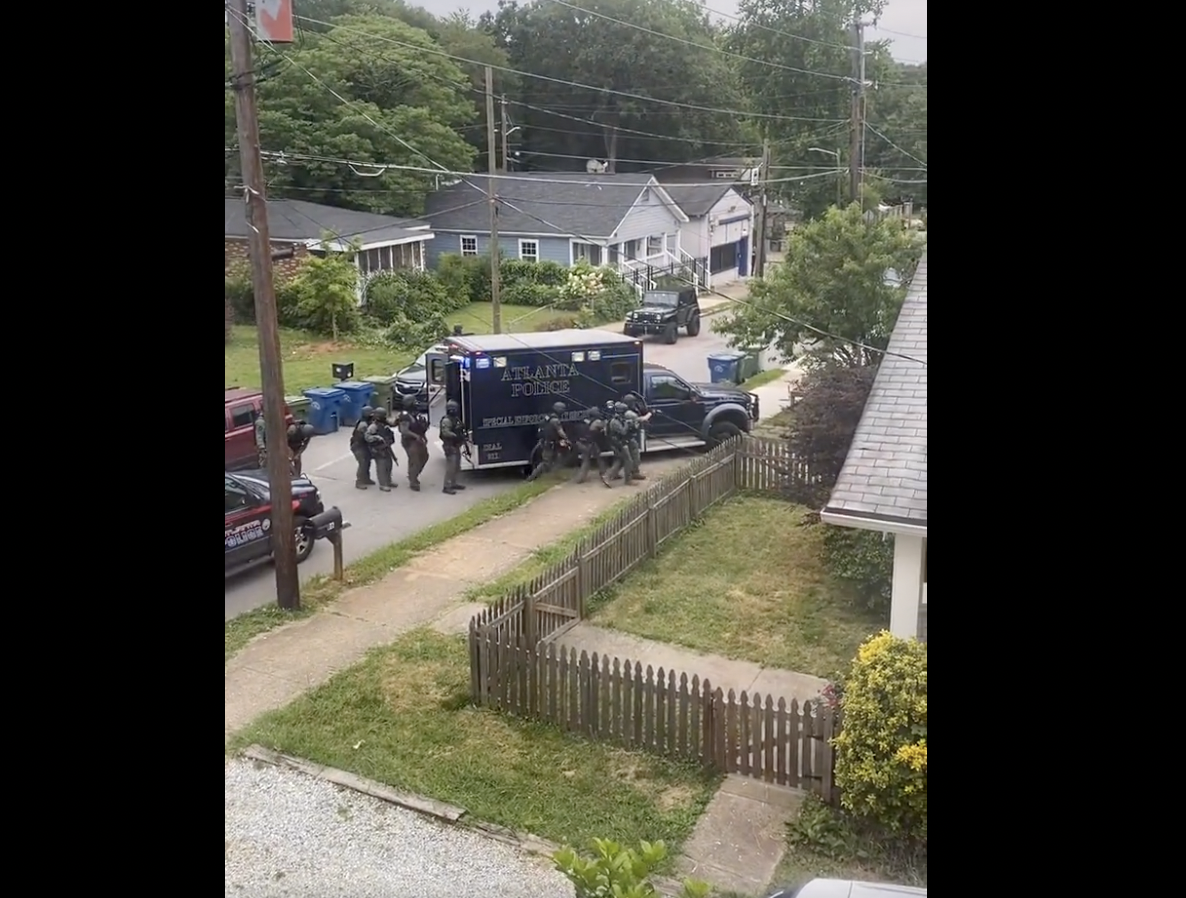 That heavily armed response seems a bit drastic for charges of charity fraud wouldn't you say?
Previously in Hell World Micah Herskind reported on police arresting a large number of peaceful protesters and hitting them with bullshit trumped-up charges.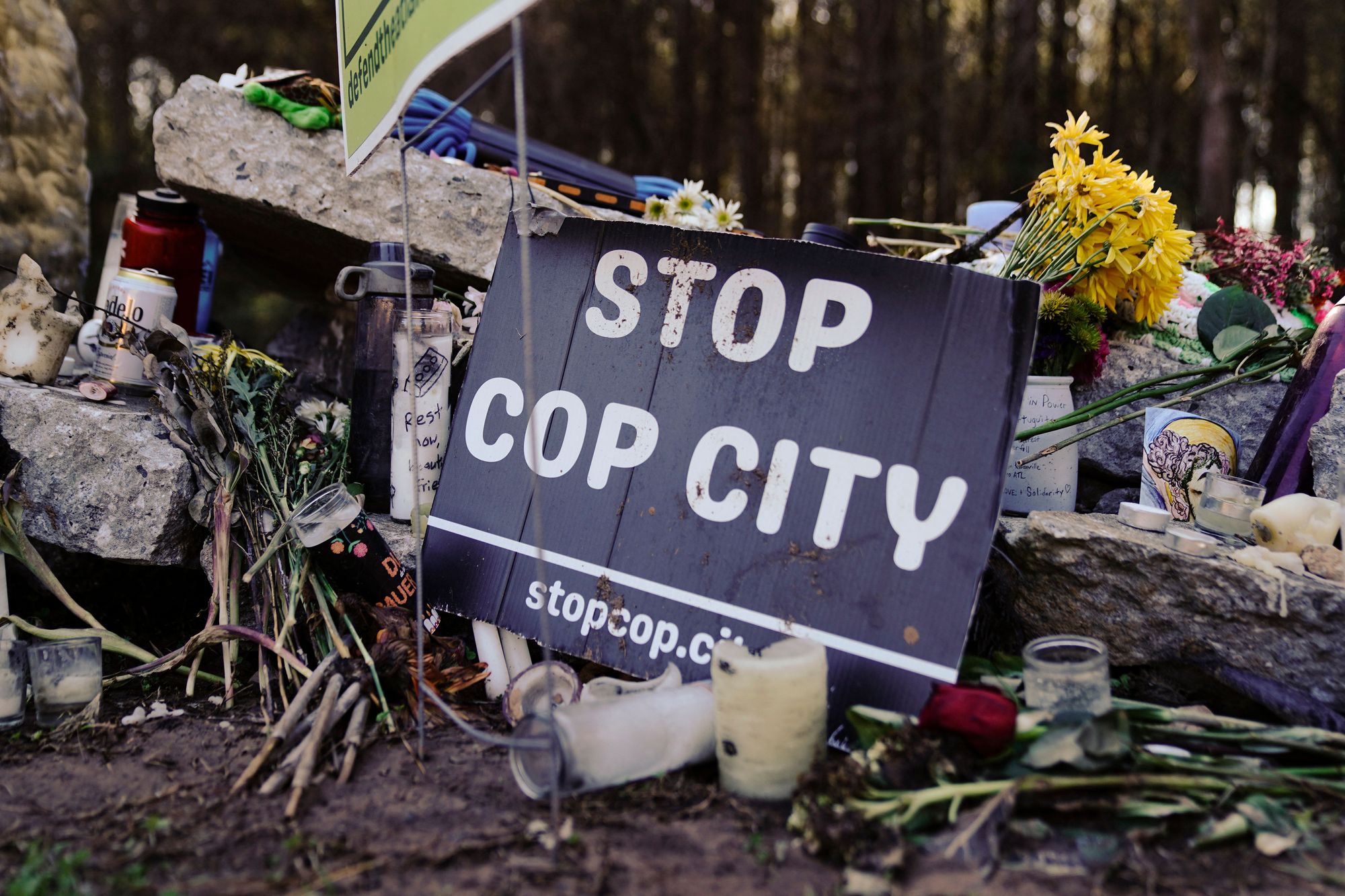 Police have worked to intimidate and suppress the movement from its inception. On the day of the final City Council vote in favor of Cop City in September 2021, police arrested 11 protesters who were demonstrating outside a council member's house. Protesters were there because council meetings were still being held virtually, with members participating in meetings from their homes. Since then, there have been continual arrests and harassment of protesters. Following a peaceful May 2022 rally, police arrested 17 people who were dispersing from the rally. Ashley Dixon, an organizer with Showing Up for Racial Justice, was one of the arrestees. As protesters were leaving and conversing on the sidewalk, Dixon told me, "A police officer came running towards us and handcuffed us to each other…telling us we were under arrest and charged with 'pedestrian in the roadway', even though we were just standing on the sidewalk." Just days later, police made 8 more arrests in the forest.
The state's tactics have only escalated in recent months. In December 2022, police arrested five forest defenders on charges of domestic terrorism, in the first documented use of a 2017 Georgia statute that advocates warned would be used just like this to target social movements. Arrests during the January 18 raid, during which police killed Tortugita, and at a protest on the following weekend brought the total number of domestic terrorism arrestees to 19. Analysis of the arrest warrants by Grist at the time showed that nine individuals charged with domestic terrorism were not alleged to have committed anything more serious than misdemeanor trespassing.
Prior to that Rachel Garbus reported for Hell World on the movement against the construction of Cop City and the aftermath of the police killing one of the protesters.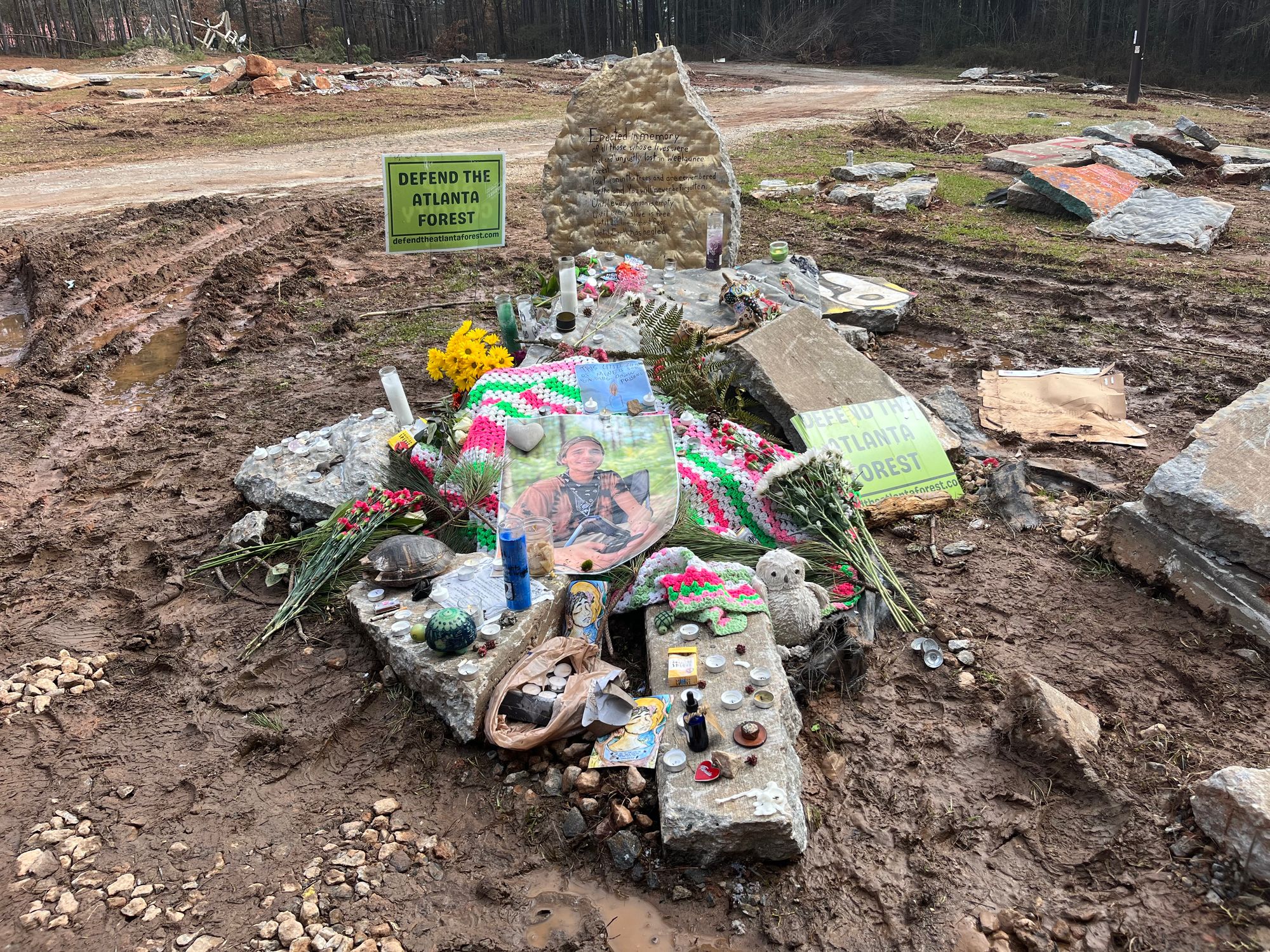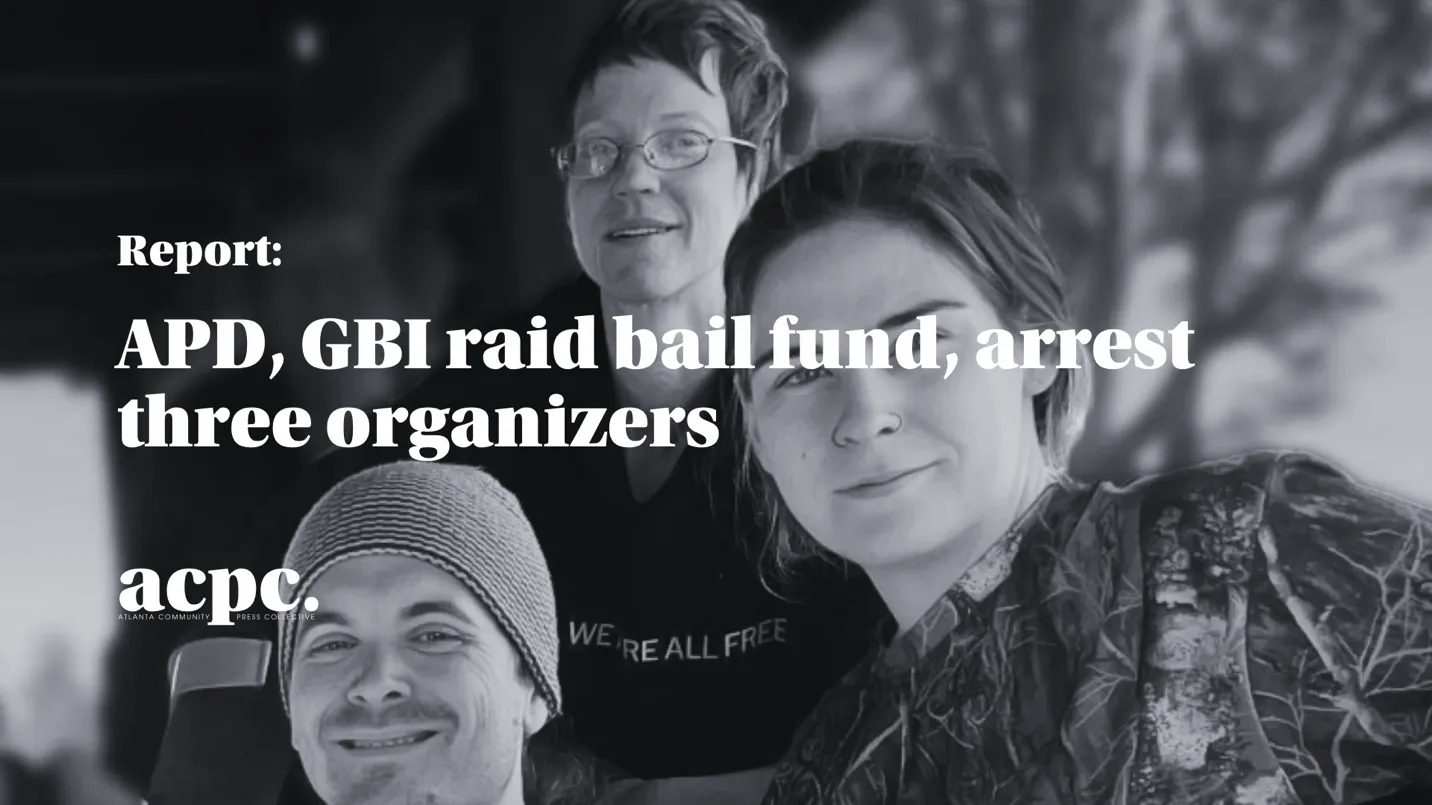 Atlanta Police Department and the Georgia Bureau of Investigations raid bail fund, arrest three organizers
By: Matt Scott, Atlanta Community Press Collective
Just after 9:00 a.m. Wednesday, officers with the Atlanta Police Department (APD) and the Georgia Bureau of Investigations (GBI) raided The Teardown House in East Atlanta. Police arrested three organizers with the Atlanta Solidarity Fund, a non-profit that provides bail and legal support to protestors who are arrested. The arrests are part of a wave of repression facing protestors who oppose the Atlanta Public Safety Training Center, more commonly known as "Cop City."
Marlon Kautz, Adele Maclean and Savannah Patterson were booked at DeKalb County Jail and charged with one count each of money laundering and charity fraud. A representative from the Solidarity Fund said Maclean was taken to Grady Hospital for a pre-existing spinal condition before being transported to DeKalb County Jail.  
These arrests come just a week after news that the Cop City project will cost residents $67 million, instead of the $30 million consistently told to the public since 2021. Atlanta City Council will vote whether to fund Cop City on Monday, June 5.
If found guilty of the charges, the money laundering charge comes with a fine of $500,000, up to 20 years imprisonment, or both. The charity fraud charge carries a fine of $10,000 or the total amount of the fraudulent solicitations and criminal penalties of up to $5,000, a minimum of one year in jail with up to a five-year maximum, or both.  
Warrants against the organizers cite reimbursements as evidence of money laundering. The reimbursements listed are for "expenses such as gasoline, forest clean-up, totes, covid rapid tests, media, yard signs," "moving the jail support hotline to a new plan," and "purchase of a safe via amazon."  
"This is an extreme provocation by the Atlanta Police Department and the State of Georgia," said Lauren Regan, Executive Director of the Civil Liberties Defense Center. "Bailing out protestors who exercise their constitutionally protected rights is simply not a crime. In fact, it is a historically grounded tradition in the very same social and political movements that the city of Atlanta prides itself on. Someone had to bail out civil rights activists in the 60's–I think we can all agree that community support isn't a crime."
In a pre-written statement prepared in case of the arrest of Atlanta Solidarity Fund organizers, Kautz described their organization as "existing for seven years with the sole purpose of providing resources to protestors experiencing repression. We ensure their rights are respected through the criminal justice system, and we provide access to representation to assist them with navigating the legal system."
Kautz said the use of criminal charges against the Atlanta Solidarity Fund "will have repercussions on the ability of movements to create change across the country," and called the tactic "a new playbook that criminalizes the coalition of advocates who are providing financial and physical support to movements."
Georgia Governor Brian Kemp weighed in on the charges on Twitter. Kemp continued the use of the "outside agitator" narrative levied against protestors, stating that Kautz, Maclean, and Patterson "facilitated and encouraged domestic terrorism." Similar language was used against Civil Rights leaders in Atlanta in the 1960s.
Judge Shondeana Morris, who signed the warrants against the Atlanta Solidarity Fund organizers, was appointed to the DeKalb County Superior Court by Governor Brian Kemp on June 17, 2019.  Prior to Judge Morris' appointment, she served as a DeKalb County State Court Judge.
Georgia Attorney General Chris Carr issued a statement similar to Kemp's, saying, "As we have said before, we will not rest until we have held accountable every person who has funded, organized, or participated in this violence and intimidation."
Georgia Democrats on Twitter questioned the raid and intent behind it.  
The strongest criticism came from State Senator Josh McLaurin, who said, "My understanding after a couple conversations is that this is all happening at the direction of [Georgia Attorney General] Chris Carr. It's an attempt to score cheap political points by being reckless with people's lives. This empty, 1990s-style tough-on-crime bullshit is tired and dangerous."
Georgia State House Representative Saira Draper, who represents the 90th District in which The Teardown House is located, made a statement on Twitter expressing concern about the raid and arrests.
"I'm deeply concerned about the raid directed by the Georgia Attorney General's office today in Edgewood, a dense and thriving residential neighborhood in Atlanta. I don't know the specifics of the charges yet, but at this moment, SWAT and helicopters seem grossly excessive for arresting individuals accused of money laundering and 'charity fraud.' What I do know is weaponizing the powers of the state for political gain is abuse of power," Draper wrote.
Atlanta City Councilmember Liliana Bakhtiari likewise expressed scrutiny of the arrests.
"I am deeply concerned that in polarized times, actions like these can inadvertently set new precedents that can jeopardize the rights that we value as Americans. Given the heightened state of tension throughout our community related to the Public Safety Training Center, this action deserves the utmost scrutiny and sensitivity as it moves through the legal process," Bakhtiari said on Twitter.
In a statement from DeKalb County Jail, Kautz said "[he is] not intimidated, and is committed to doing the important work to support activists." The Solidarity Fund Representative who passed along the statement describe Kautz' attitude as grateful for the outpouring of support and "very chill about the whole thing."
As of December 2022, prosecutors made frequent insinuations that the Atlanta Solidarity Fund was at the center of their investigation of the Stop Cop City and Defend the Atlanta Forest Movement. DeKalb Assistant District Attorney Peter Johnson argued that activists who wrote the number of the Solidarity Fund on their body had the intent to commit a crime and that the Solidarity Fund was "being investigated as part of the whole thing."  
Bail funds have a long history in the United States, existing since the dawn of the Civil Rights Era. Churches and community groups including the NAACP came together to fund Martin Luther King Jr.'s $4000 bail after his arrest in Birmingham, Alabama. Without the collective bail fundraising the equivalent of $39,000 in today's dollars, King likely would have had to continue his campaign from jail instead of on the streets.  
The National Bail Fund, comprised of over 90 local-community based bail and bond funds, stepped in shortly after the arrests to temporarily take over bail support operations for the Atlanta Solidarity Fund while its organizers face these repressive charges. Donations to pay bail and legal support for those arrested in and around Atlanta are now directed to a new Act Blue website.  
Activists in the Stop Cop City movement expressed continued commitment in the face of these new charges and statements by Kemp and Carr.  
"This is targeting of organizers and movements by the police and the state. Bail funds have been a part of organizing the Civil Rights movement and labor movement. We will continue to fight back against Cop City and the political arrest of our friends and comrades," said Kamau Franklin, an organizer with Community Movement Builders.
Activists are planning a sixth "Week of Action" in Atlanta against Cop City from June 24-July 1.
This article was originally published by the Atlanta Community Press Collective, an abolitionist, not-for-profit media collective. ACPC's goal is to make the day to day workings of local government accessible to the public and to provide an independent voice in a local media landscape increasingly dominated by corporate interests.
---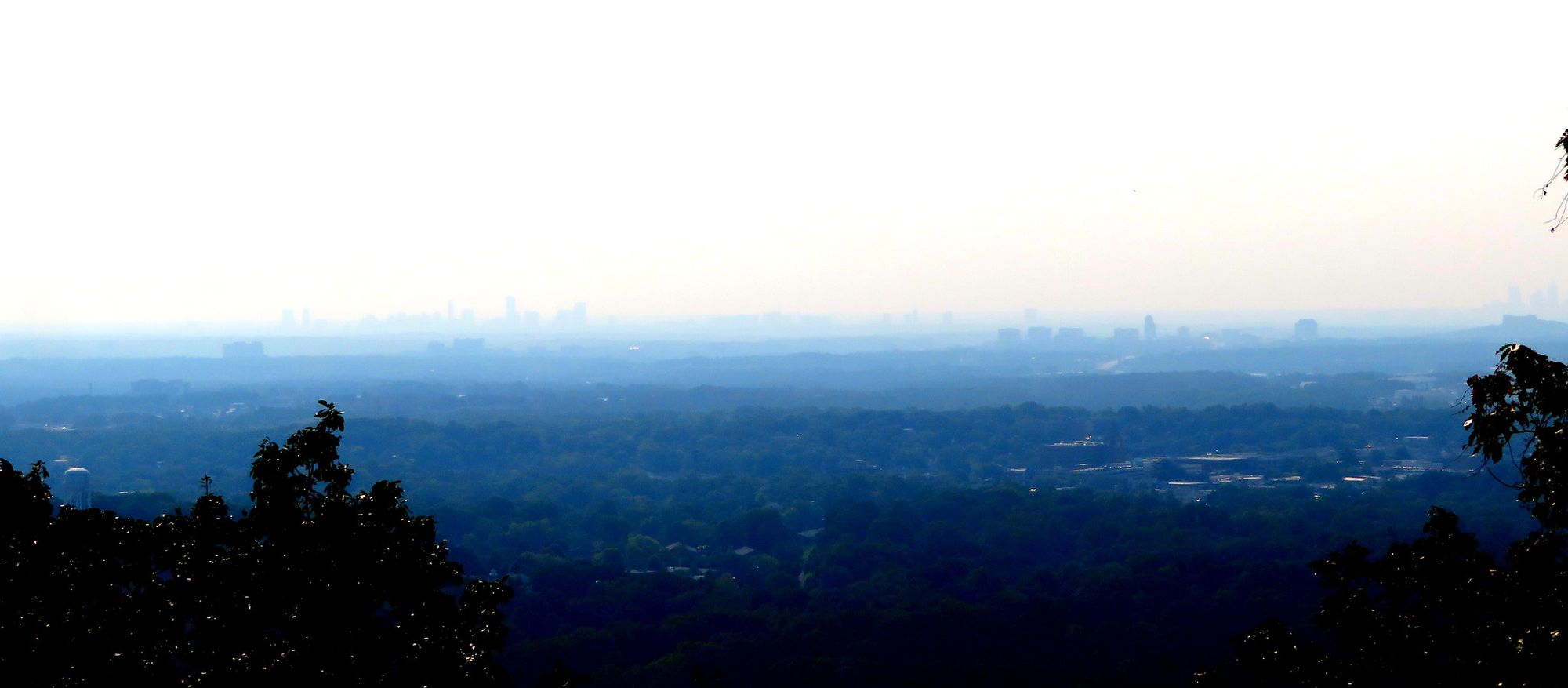 The advice column formerly known as Heart in a Blender
If you have a question you would like Max to answer send it in to eve6advice@gmail.com
My Dearest Eve 6 Guy,
I am a classic millennial: born in the Year of the Swift, old enough to credibly say that I was alive during the Regan administration – even if it were only for a couple of days – and swimming in undergraduate student loan debt. I am also an amateur musician, playing percussion in three different groups around town, including our community orchestra (my mother is most proud).
Anyway, to the point: I have found myself becoming more and more self-aware about my reluctance to try –  and sometimes even distaste at the thought of – new music and movies. I seriously don't want to become that (old) guy.
I know the taste in music thing is supposed to be a trope: one hits their mid-to-late 20's, and, once they've experienced just about every emotion there is to experience, they don't have any reason to connect to new music anymore. But that doesn't necessarily mean I wouldn't bang my head to something I'm not familiar with. If it sounds good (to me) and I like the beat, I can jam to it…
With visual media, I feel stuck watching the same TV shows over and over again, only rarely branching out and trying new ones, but usually only when I think I'll like them and I get a chance to watch the first episode when it first comes out. I'll probably never get to any of the shows that are on my "to-watch" list. Ever. I also never have any desire to watch the shows everyone is talking about at the time. The more hype it gets, the less interested I get. That sounds so…I don't know, petty? I'm not doing it on purpose, though…
As I sit here reflecting, I know that I don't talk to my close friends with kids as much as I used to (grad school sucked), but I know being around the kids (now 12, 11, and 9) used to help keep me younger at heart, and thus made me more open to watching their new movies/shows and listening to their music.
I just wish I knew how to like new things again, instead of being stuck in the comfort of my past. I know my brain is likely just coping with and defending itself from the existential threat that is, well, gestures to everything, but I wish I could find room in my brain and in my heart for something new. It sometimes feels like everything that's ever been said has already been said 100 times over, so why bother trying to find something that says it in a slightly different way?

Sincerely,
Old, But Not That Old
—

OBNTO,
Life does indeed go on long after the thrill of living is gone. John Mellencamp was right to say it and Built to Spill was right to say he was right and I'm right to say they both were. Sorry I don't have more recent reference points for you here. I too love my old favorites.
There's nothing wrong with listening to music and watching movies you loved when you were younger. I think it's the way in which one derives pleasure from old art that distinguishes the exercise as a thing sublime (no pun intended) or semi-pathological, and this tends to really be dependent upon one's state of mind more than the thing itself.
Great works have a way of revealing themselves anew over the course of a lifetime. The way I interact with Either/Or (Elliott, not Kierkegaard, Jesus Christ), Abbey Road or It's a Shame About Ray today involves discovery. Discovery is contemporaneous.
The experiences I've notched since the first time I spun these records lace the music with newness. Sure they tap memories too, but not in a base "nostalgia is poison" way. It's more about the past as it relates to the present. Even if the way in which it does brings forth uncomfortable feelings: regret, ennui, etc., they aren't shallow. These are feelings that bind me to life because I know they're shared. They deepen my understanding of myself and others in the present.
I fully own how pretentious that might sound but goddamn it it's true.
The way elder art appreciation can be less healthy I guess is when you do it to hide from the present because you don't see a future, but let me just be crystal clear that A) this impulse is perfectly understandable and B) there are far worse ways that people attempt to achieve these ends, and if this is you you should cut yourself some slack.
It's better to listen to Hemorrhage by Fuel to try and escape into a time when things seemed easier than, like, stick a needle in your arm. If that's the worst of your vices you're doing ok.
I think the best prescription here is to, on occasion, force yourself to eat your vegetables. You don't even necessarily have to listen to new music or watch new movies, but you should expose yourself to things you haven't yet seen and heard regardless of their release date. That may be a good place for you to start. Listen to an album by a band you like that you haven't heard before. Do the same with a director who's moved you in the past but who has a title or two you haven't seen.
Cultivate a willingness to step outside your comfort zone in this way that still has a taste of the familiar. When this cracks your mind open a bit, start experimenting with some new stuff. An artist I'm really digging right now is a guy called Mo Troper. He has a strange and haunting voice and a prodigious knack for melody. Maybe check him out if that sounds interesting to you. I also hard rec a relatively new movie called The Platform that I just watched for the third time last night and on each successive viewing I've gotten something new out of it.
Max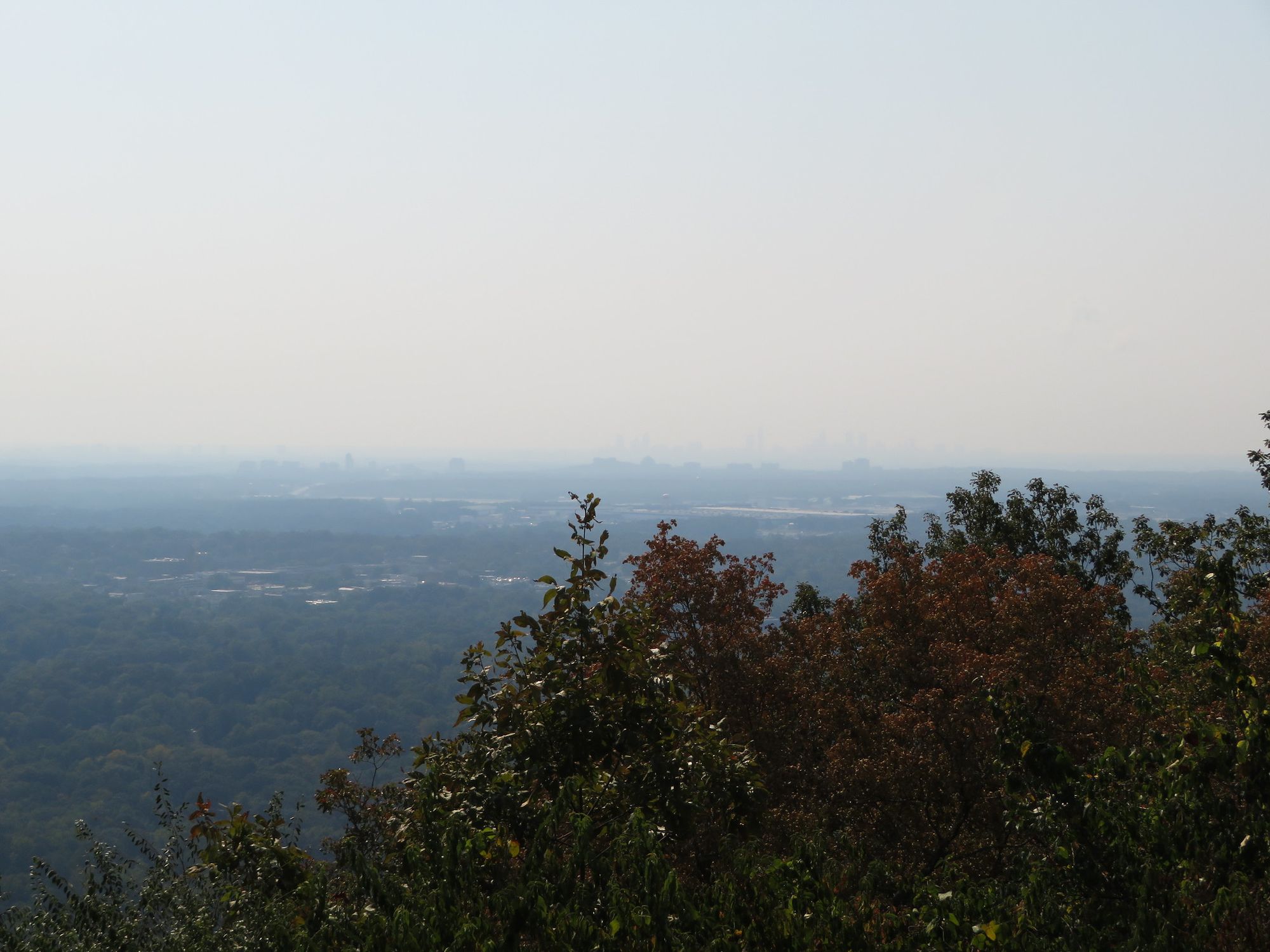 It's Luke again. Hello. How are you? I'm alright. Gonna be a hot one today. Got the AC put in yesterday though. Pro move to plan ahead.  
I thought this piece reporting from the annual convention of the National Automobile Dealers Association in Slate was very good. In particular in the way that it describes how car dealers often represent the wealthiest people in any given area around the country and are some of most involved in donating to conservative politicians to promote legislation that enables their grip on power.
Auto dealers are one of the five most common professions among the top 0.1 percent of American earners. Car dealers, gas station owners, and building contractors, it turns out, make up the majority of the country's 140,000 Americans who earn more than $1.58 million per year.* Crunching numbers from the U.S. Census Bureau, data scientist and author Seth Stephens-Davidowitz found that over 20 percent of car dealerships in the U.S. have an owner banking more than $1.5 million per year.
And car dealers are not only one of the richest demographics in the United States. They're also one of the most organized political factions—a conservative imperium giving millions of dollars to politicians at local, state, and national levels. They lobby through NADA, the organization staging the weekend's festivities, and donate to Republicans at a rate of 6-to-1. Through those efforts, they've managed to write and rewrite laws to protect dealers and sponsor sympathetic politicians in all 50 states. All of which meant that this year, presidential hopeful Nikki Haley and Fox News darling Greg Gutfeld, among others, had made the pilgrimage to kiss the key ring.
...
In many ways, you can't understand U.S. conservatism without understanding the car dealer—that middlemensch of American capitalism, selling a product he doesn't make at a fat-enough markup to become fabulously rich and politically powerful. And dealers who have lodged themselves in the middle of Republican politics find themselves at a crossroads, just like the party they patronize. Underneath the froth, and the humidity, there was anxiety in the air. I journeyed to the NADA convention to hear the dealers' vision of the future. What I found is a stark prescription for what Republicans want now.
I always found it a little strange that the biggest local celebrity in the Boston area is a car dealership guy who – of course – inherited his empire from his father. And you'll never guess his politics!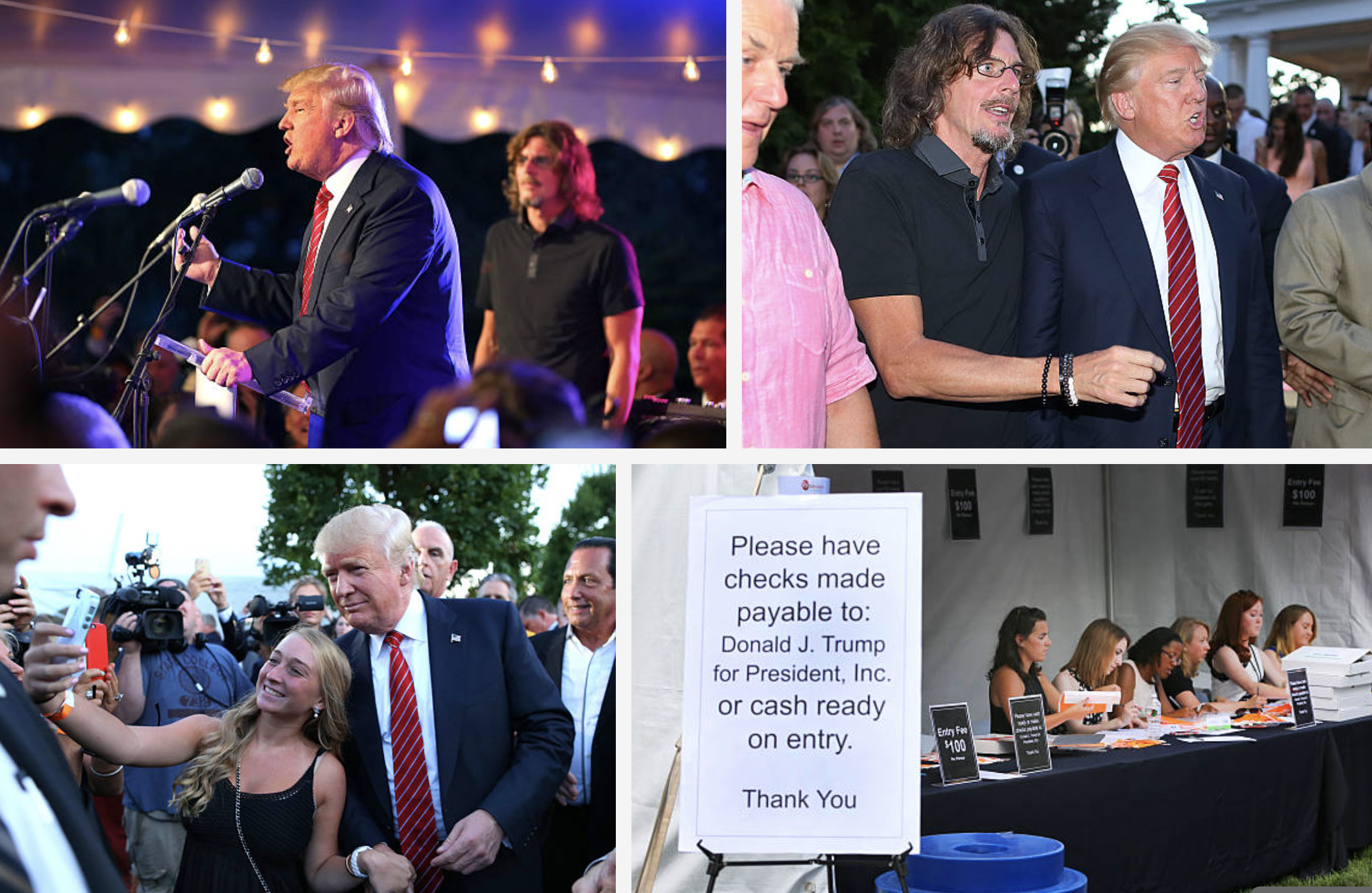 I just re-posted this old piece from the time I went to a fundraiser for then-candidate Donald Trump at the mansion of Ernie Boch Jr. in Norwood, MA. I think it's a fun one to read again and not just because there are a couple of jokes in there I still think land. One of the main jokes I thought at the time was that Trump had a chance to win lol. Really had my ass handed to me on that one. Surely he won't this time though. Surely not twice.
Through the gates and towering shrubbery setting Boch's estate apart from the street, a decidedly more well-heeled crowd mingled at what felt like the reception for your least likable rich uncle's third wedding. The group were a curious mix: aging rockers—Boch himself performs in an outfit called Ernie Boch and the Automatics—and mustachioed middle-aged men with permanent Disappointed Dad scowls. Fountains and meticulous landscaping provided scenic alcoves for wolfing down lamb pops with bee honey rosemary dijon and assorted carved meats. It would be a great setting for incestuous banker cousins to stage a croquet match in which they were all cheating, obviously and poorly. A tranquil bronze Buddha sat cross-legged with its eyes closed as if it didn't want to see what was going on, while a man in a bright blue plaid suit had people stopping to ask if they could take his picture. It was a remarkable suit, you couldn't argue with that. At one point I saw a black person.
"I like how he's very vocal about his stance and is taking a different style with his politics," Jonny Arakelian, who I was disappointed, (relieved come to think of it), to learn wasn't Julian Edelman when I got closer, explained. What about some of Trump's more controversial stances? "I think it's a PR thing; everything he says, if anyone else said it, they would not be able to even be in the conversation for president. From a PR standpoint it's genius." Around the corner a cover band ripped into Kansas's "Carry On My Wayward Son."
I went to the bar and ordered a scotch and then didn't tip in order to try to fit in. Not everyone here was gung ho about Trump, I learned. "I don't know that he'd necessarily make the best president, but I like his personality," one fella told me, before we skipped politics and moved onto the more important issue of beard maintenance.
It also was the one time I ever got to ask Trump a question. Sadly my bravery and righteousness did not end up altering the course of history one way or the other.
More laughs ensued. It may have been too many lamb pops from earlier, but I was beginning to feel sick to my stomach. The contrast of the laugh track with the decidedly unfunny context brought Rodney Dangerfield's scenes from Natural Born Killers to mind. Speaking of killers, I asked Trump what, if anything, he would propose to do about the problem of gun violence in the country. "Well you have a problem of mental health in this country, and we have to take care of these people and we have to find out who these people are," he said. "We have to do something about it, because we have a mental health problem more than anything."
Blaming gun violence on the red herring of mental health has become coded language for "I'm not going to do anything about guns" among the right. Everyone throughout the world wants to eat cheeseburgers every day, but obesity isn't a problem in countries without McDonald's everywhere.
Seeing an opening to pivot toward his standard talking points, Trump shared his favorite spooky campfire story: "You used the word gun violence. Chicago has the strictest gun laws in the world, they say, and certainly in the U.S. and look what's happening over there. You take a look at Baltimore, tremendously strict, so many places so strict, those are the places that have the biggest problem. … We also have an illegal immigrant problem. A lot of the gangs in St. Louis and Ferguson, the gangs in Chicago, the toughest and meanest, the worst dudes in Baltimore, you've seen it, they're illegal immigrants. And I tell you one thing, if I get in, they're going to be gone so fast out of this country."
How exactly he would do that he didn't say. How exactly he would do anything he didn't mention either. For all his reputation as a straight talker who speaks his mind, Trump's solutions sound about as plausible as Bojack Horseman's Vincent Adultman conducting business transactions—prevaricating children stacked on top of one another in a trench coat hoping no one will call them out on their ruse.
---
That's all for today. Gotta go. Thanks for reading. Get the book please I put all of my guts into it. It's filled with guts.