My first collection of short stories A Creature Wanting Form is available now.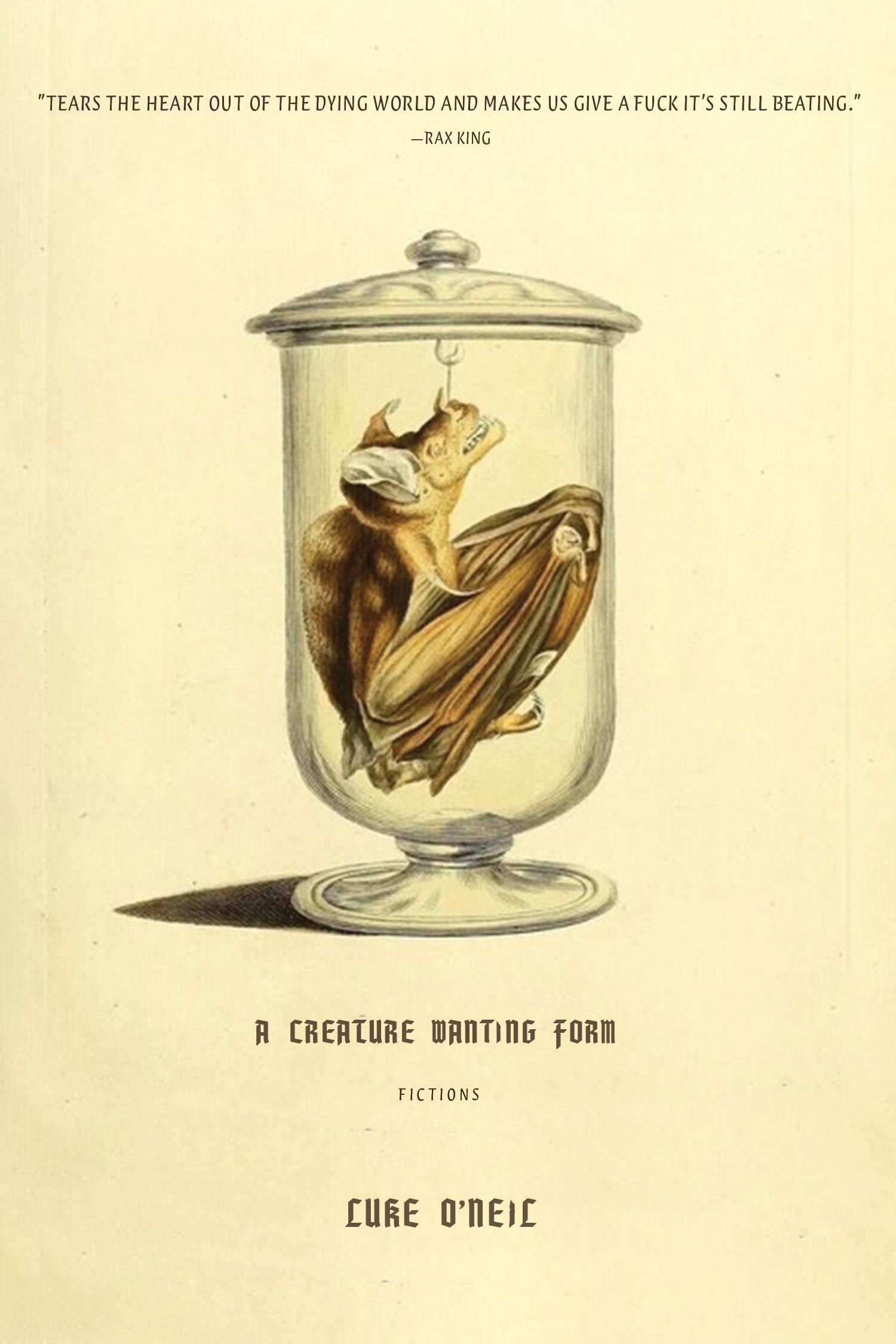 Here's how the nice folks at OR Books describe it:
A Creature Wanting Form
Filtered through the lens of a writer and characters who are horrified by the earth's looming mortality, and their own, but still compelled to carry on, O'Neil interweaves science fiction, allegory, fables, poetry, and reflections on the deeply grounded indignities of modern life. In these pages, climate catastrophe lurks on the horizon; animals voraciously devour each other; your parents only call to tell you who from home has just died; and you want to go for a swim, but there's a shark in the pool.
Here are some very kind things that friends and colleagues who I admire had to say about it:
Like Denis Johnson, Luke O'Neil writes with such vivid urgency that it can be physically uncomfortable to read, but the stories in A Creature Wanting Form are rendered with a lyricism that seems to be in awe of the world even as they describe its greatest pains and profound injustices. Unforgettable, original and a more than worthy extension of the far reaching and hard won empathy which characterizes the brilliant Hell World.
-Megan Nolan, author of Acts of Desperation
In these stories, Luke O'Neil yanks the heart out of the dying world and makes us give a fuck that it's still beating.
-Rax King, author of Tacky: Love Letters to the Worst Culture We Have to Offer
If you don't hear the rhythms in Luke O'Neil's writing, has your brain even been broken by the internet? The poster's James Joyce.
-Spencer Ackerman, Pulitzer and National Magazine Award winning journalist and author of Reign of Terror: How The 9/11 Era Destabilized America and Produced Trump
Cunning and poetic revelations into the sick sad world we're all glued to, woven with alluringly tapestried parables Luke O'Neil then pulls out from under us, rug-like, in choreographed slow motion. I am trying to dissociate from truth over here, Luke, and there are almost no commas for me to hide behind in this book!
-Sadie Dupuis of Speedy Ortiz & Sad13, author of Cry Perfume
Luke O'Neil has made an art of staring into the void, meticulously cataloging its horrors, and then telling them all to fuck right off. His new book is a gorgeous, unsettling, infuriating collection of essays and stream-of-consciousness poems about the daily carnage of American life, the ugly lows and brief, glittering highs of scraping by as what passes for a normal person in this country. There really is no one else out there doing what he does, and we're lucky to have him (though good luck saying something as soft as that to his face).
-Kim Kelly, author of Fight Like Hell: The Untold History of American Labor
Luke is one of the few writers who I'll read for the prose alone. In this collection he puts his formidable stylistic gifts to work in a book that captures the feeling of living in 21st-century America exceptionally well.
-Ryan Cooper, editor at The American Prospect and author of How Are You Going to Pay for That?
A lot of the stories in Luke O'Neil's collection are pretty fucking depressing, because they are about the world we live in and the world we're about to live in, but in each one there's always a bright moment of joy or a joke or a formal invention that really lights up my brain. So then I read the next one, because you've got to do something, right? Turns out the whole experience of reading the book is a metaphor for life! Shaking my damn head, I gotta hand it to Luke. He really got me good.
-Dan Kois, editor at Slate and author of The World Only Spins Forward, and How to Be a Family
Luke is scary. He makes us look at ourselves and examine our souls and think about what the fuck we are actually experiencing, as opposed to just idly sitting by as we all distract ourselves until death. I hate his writing sometimes because self examination is agonizing and depressing. But it's also a beautiful disaster.
-Dave Wedge, New York Times bestselling author and journalist
I always wanted to know what goes on inside Luke's brain. Then I read this collection, and, well, be careful what you wish for.
-Dan Ozzi, author of Sellout: The Major-Label Feeding Frenzy That Swept Punk, Emo, and Hardcore
I am extremely nervous about this shit. Writing fiction is terrifying compared to journalism or whatever it is I do here where things that actually happened provide the restricting parameters. When you can write literally whatever it's a lot more overwhelming.
My previous two books are also available here via OR Books.