Should we talk about the weather?
Should we talk about the government?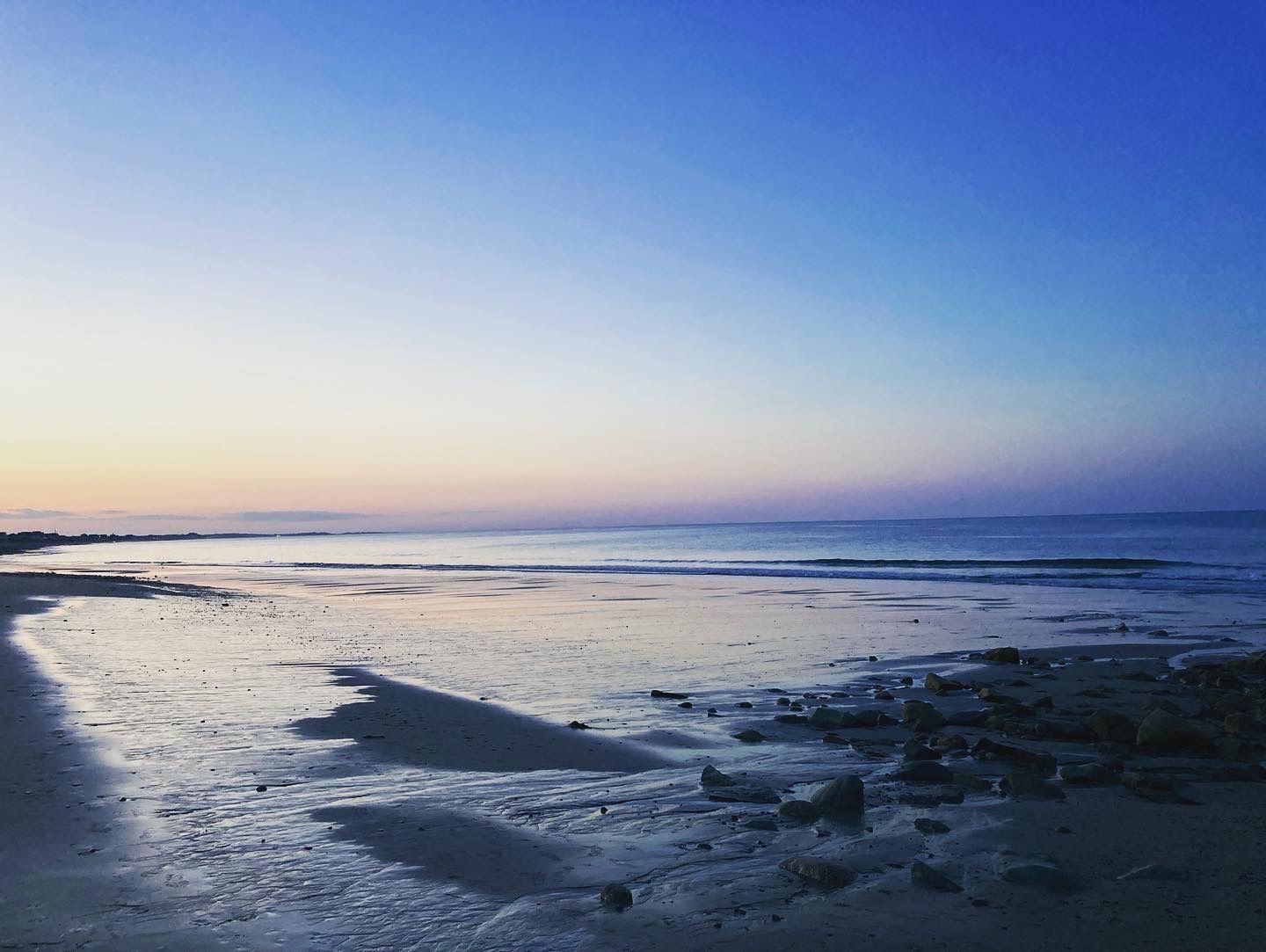 It's been so cool and dry out in Massachusetts the past day or two that I'm starting to get suspicious. Like it has to be a trick of some kind. The captor has left the cage door open to fuck with us and we're poking our heads out to see if we can make a run for it. I didn't think we were supposed to have nice days anymore. Maybe don't deserve to have them if I'm feeling Catholic about it.
We never really had spring this year so when it shows up out of nowhere it's like bumping into someone you thought was dead in a movie. A happy surprise but a shock nonetheless. And you give them a big bearhug. Look at this guy you say. I thought for sure you were a goner. Then the other guy goes they can't kill me that easily and you both laugh so big.
I sometimes feel like I talk about the weather too much lately. Online and in person. It used to be that talking about the weather was shorthand for people with nothing much of substance to say but that whole premise is changing fast isn't it? Pretty soon there won't be much else worth talking about.
Remember Pop Song 89 by R.E.M.? That was a fun one.
Hello, I saw you, I know you, I knew you
I think I can remember your name
Hello, I'm sorry, I lost myself
I think I thought you were someone else
Should we talk about the weather?
Should we talk about the government?  
Probably not even in their top 40 songs though.
The other day one of those engagement prompts was going around on Twitter about what the greatest American band of all time is and I feel fairly confident in my choice that it is R.E.M.
R.E.M. were the biggest rock band in the entire world for a long time while also being extremely good for so much longer than any band ever is. They maybe had one or two regrettable albums out of fifteen and a murderer's row of greatest hits. They were always cool without ever being that cool.
I'll probably do a whole thing about R.E.M. in here sometime soon like I did with Weezer recently. Maybe I will do that. I don't know.
Did you miss this beautiful piece of writing about Sinéad O'Connor from the other day? Man people really liked that one.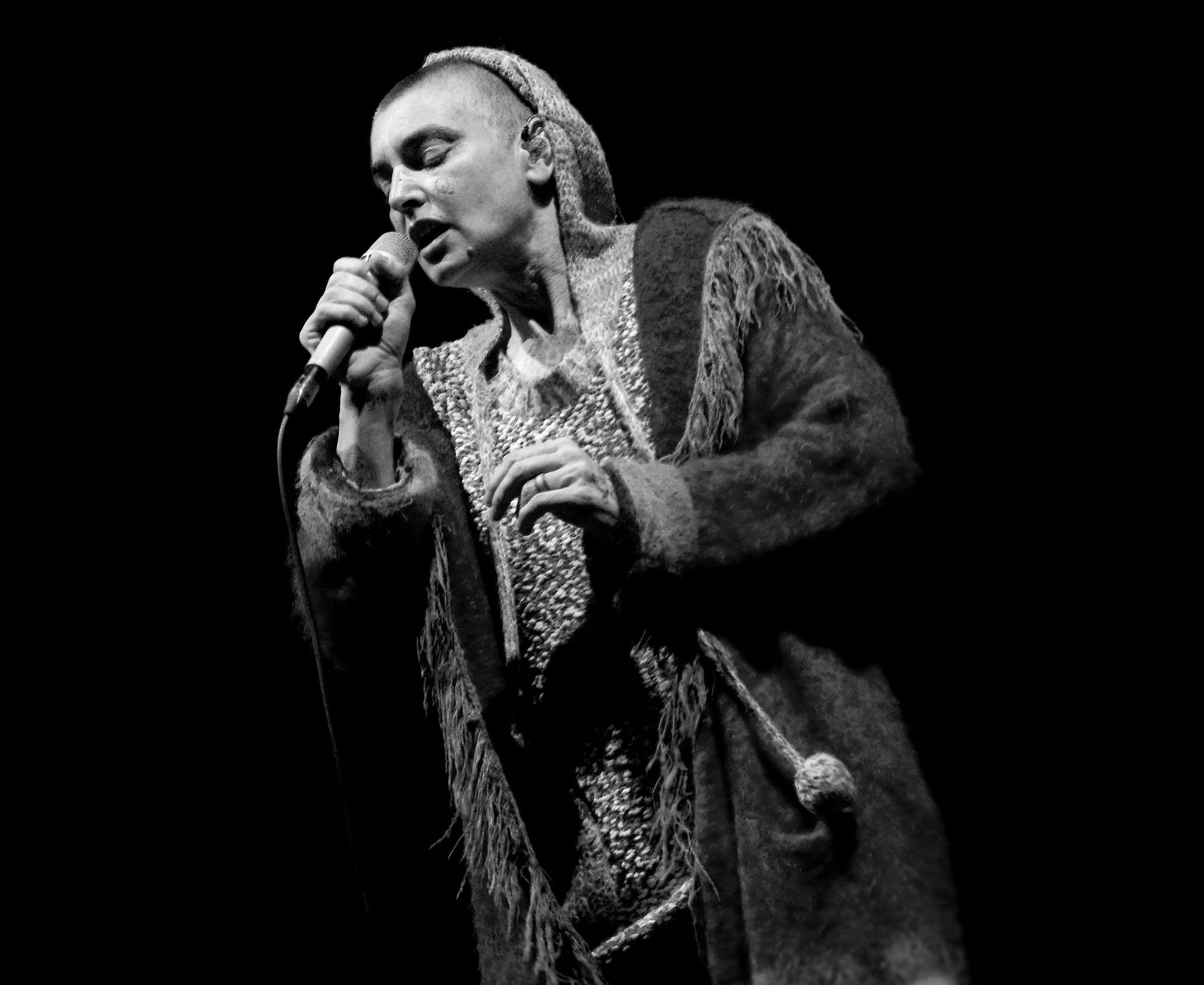 I don't know what the answer to the heating planet is and if I did no one would listen to me anyway. Instead we're just going to try to play around it it seems like. A crashed plane in the middle of a golf course. For example the Washington Post had a piece over the weekend in their Climate Solutions section about micro-dosing extreme heat exposure to build up your tolerance for when it gets really bad later on.

Here's another interesting story about the coral being cooked in Florida where water temperatures have risen dramatically this year. I found out about it from a tweet by this guy Frank Luntz.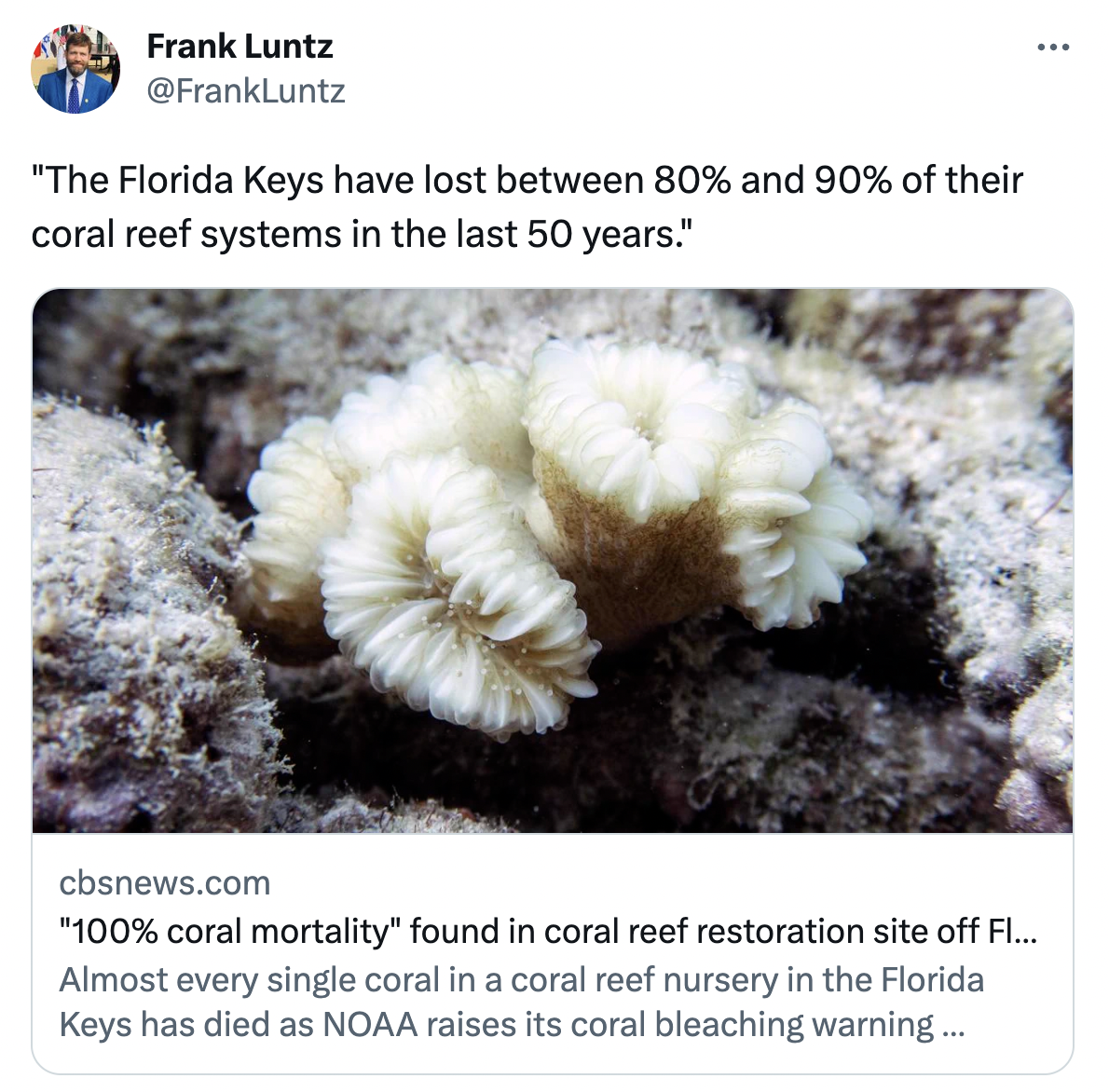 Thank you for the concern Mr. Luntz! Now to just remember who you are again and what your whole deal has always been.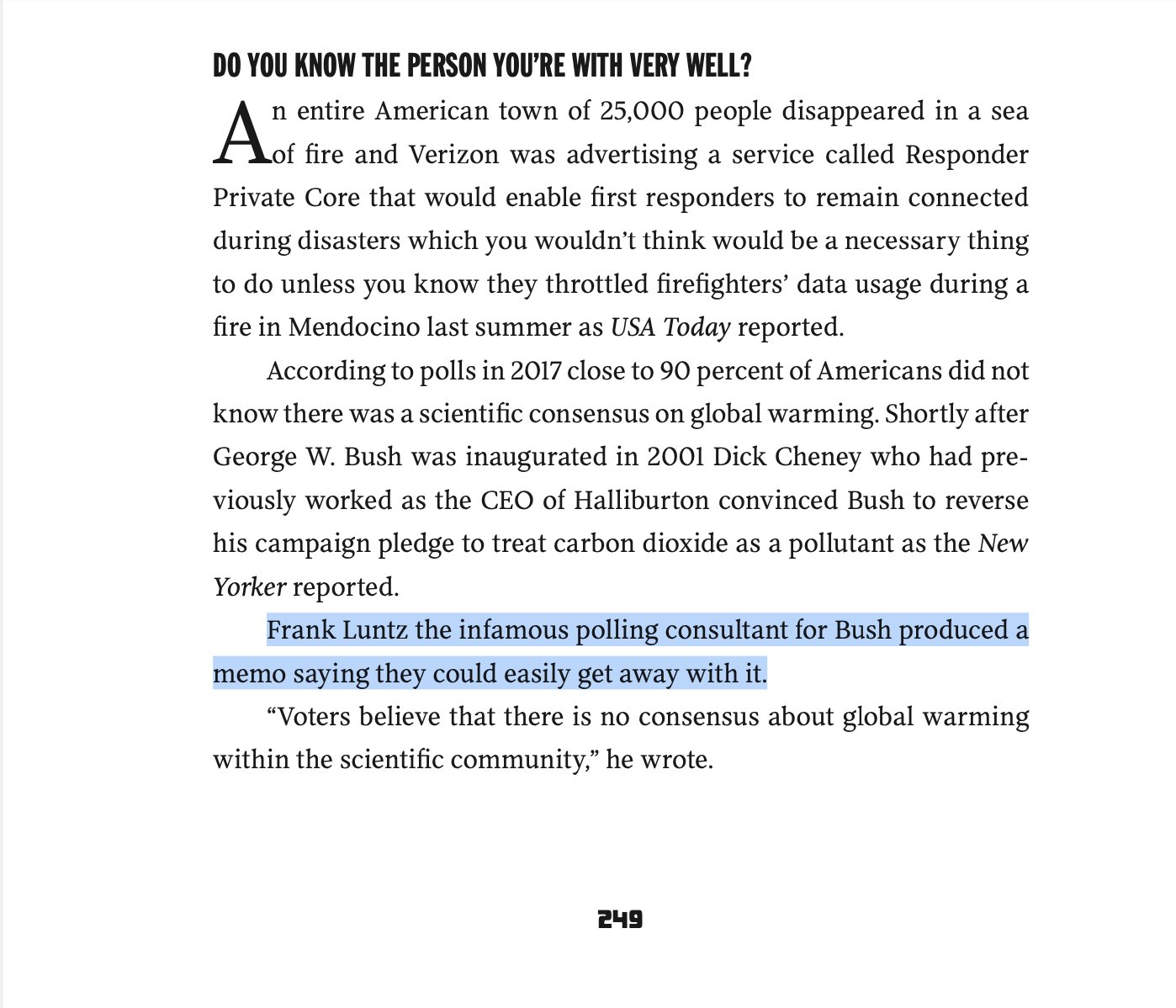 That bit there was from the first Hell World book (get it here it's still good!) Someone sent me this nice picture of it last week from inside a confessional.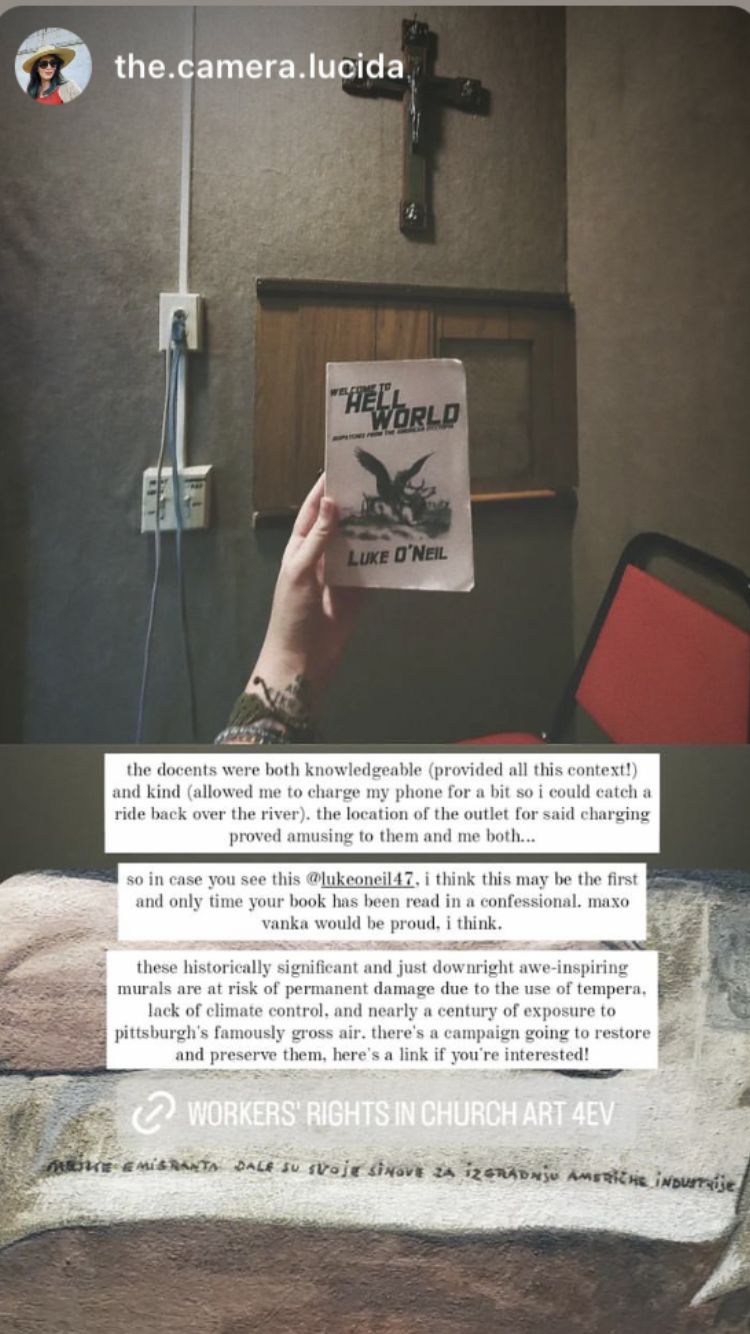 ---
Down below for paid subscribers only there's a new short story or poem or whatever my things are by me. Subscribe to read it if you can. Here's a very handsome discount for a year's subscription.
---
Before we get to that here's some other heat-related reading.
Big business lobbies against heat protections for workers as US boils
Big-business lobbyists, including big agricultural and construction groups, are pushing to water down or stymie efforts at the federal and state levels to implement workplace heat protection standards.
This summer, millions in the US have been exposed to some of the hottest days on record, inciting renewed urgency for federal protections from heat exposure for US workers. The Biden administration has proposed federal heat protections for workers. But those rules face stiff opposition and could take several years to be finalized under current rule-making processes and laws. They could even be scrapped depending on the outcome of 2024's election.
Texas charges prisoners 50% more for water as heat wave continues
The price of bottled water went up 50% in prison commissaries across Texas last month. The controversial move has two state agencies pointing the finger at each other as inmates struggle to endure an entrenched and deadly heatwave in facilities without air conditioning.
The state raised the price from $4.80 per case (24 bottles) to $7.20 per case on June 27....
About two-thirds of Texas prisons lack air conditioning, and 271 deaths between 2001-2019 may have been caused by extreme heat days, according to a 2022 study published in the Journal of the American Medical Association.
CNN:
It's so hot in Arizona, doctors are treating a spike of patients who were burned by falling on the ground
It is so hot in Maricopa County, Arizona, that people are being brought into the emergency room with significant, sometimes life-threatening burns. For the past three or four weeks of this record heatwave, people have been burned just by falling on the ground.
"Summers are our busy season, so we anticipate that this sort of thing is going to happen. But this is really unusual — the number of patients that we're seeing and the severity of injuries — the acuity of injuries is much higher," said Dr. Kevin Foster, director of burn services at the Arizona Burn Center at Valleywise Health. "The numbers are higher and the seriousness of injuries are higher, and we don't have a good explanation for it."
Every single one of the 45 beds in the burn center is full, he said, and one-third of patients are people who fell and burned themselves on the ground. There are also burn patients in the ICU, and about half of those patients are people burned after falls.
Hundreds of people experiencing homelessness died in Maricopa County last year. Will 2023 be worse?
The peak temperature in Phoenix was 110 degrees the day Michael Felder died.
But no one knows exactly how hot it was in the tent where he was found. His body temperature was so high that it couldn't be read with a thermometer, the medical examiner's report said.
People who knew Felder said the 61-year-old was soft-spoken, compassionate and well-respected around "The Zone," Phoenix's largest homeless encampment. He had lived there off and on for several years and had returned to the encampment after being released from jail for a drug-related offense.
Back on the street, Felder didn't last long in the brutal heat.
Texas trooper says they were told to push children into Rio Grande and deny migrants water
Texas troopers employed by Greg Abbott's border patrol initiative were instructed to push children into the Rio Grande and deny migrants water in extreme heat, according to emails sent by a state employee.
Nicholas Wingate, a trooper-medic from the state's department of public safety expressed concern over "inhumane" actions towards migrants in a 3 July email to supervisors and reveals other unreported incidents involving migrants, the Houston Chronicle first reported.
---
Ok that's all for free readers today. See you next time. For the rest of you here's my new story.
Where the Old Mouth used to be