The movement to Stop Cop City isn't going anywhere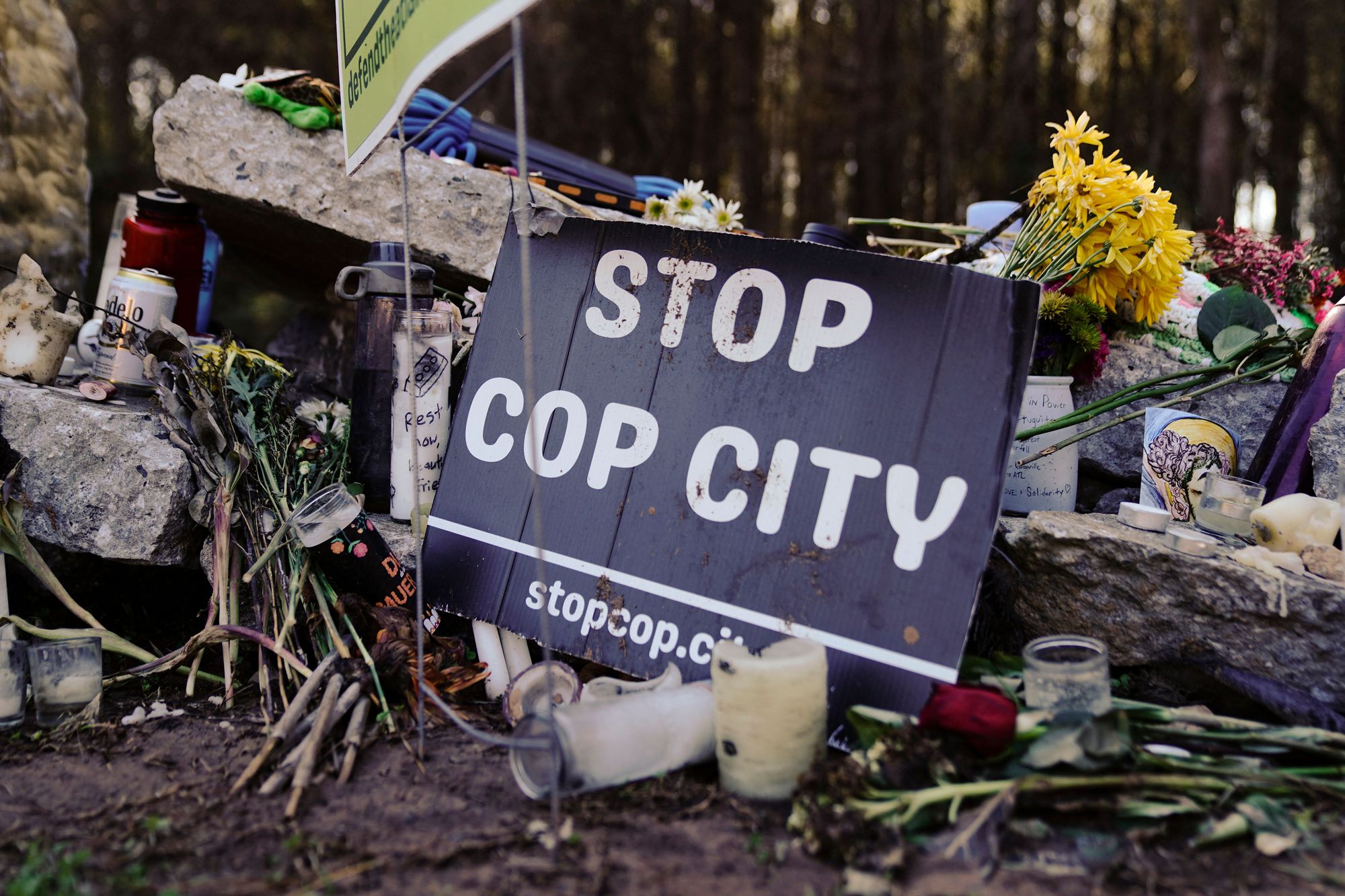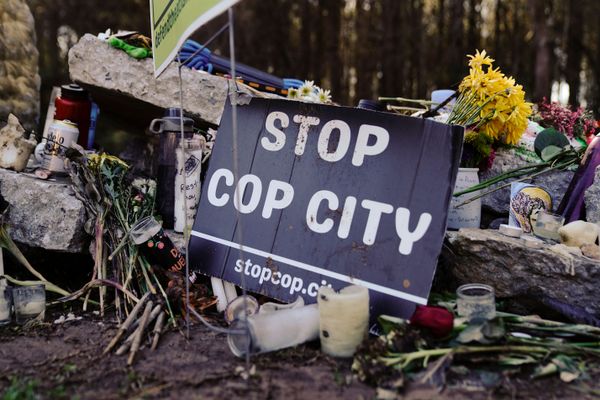 Back in January Rachel Garbus reported for Hell World on the movement against the construction of Cop City in Atlanta and the aftermath of the police killing one of the protesters. Today Micah Herskind catches us up on what's transpired over the past few weeks, including the release of an independent autopsy about the shooting of Manuel Esteban Paez Terán, and the increased use of bullshit domestic terrorism charges against dozens of protesters.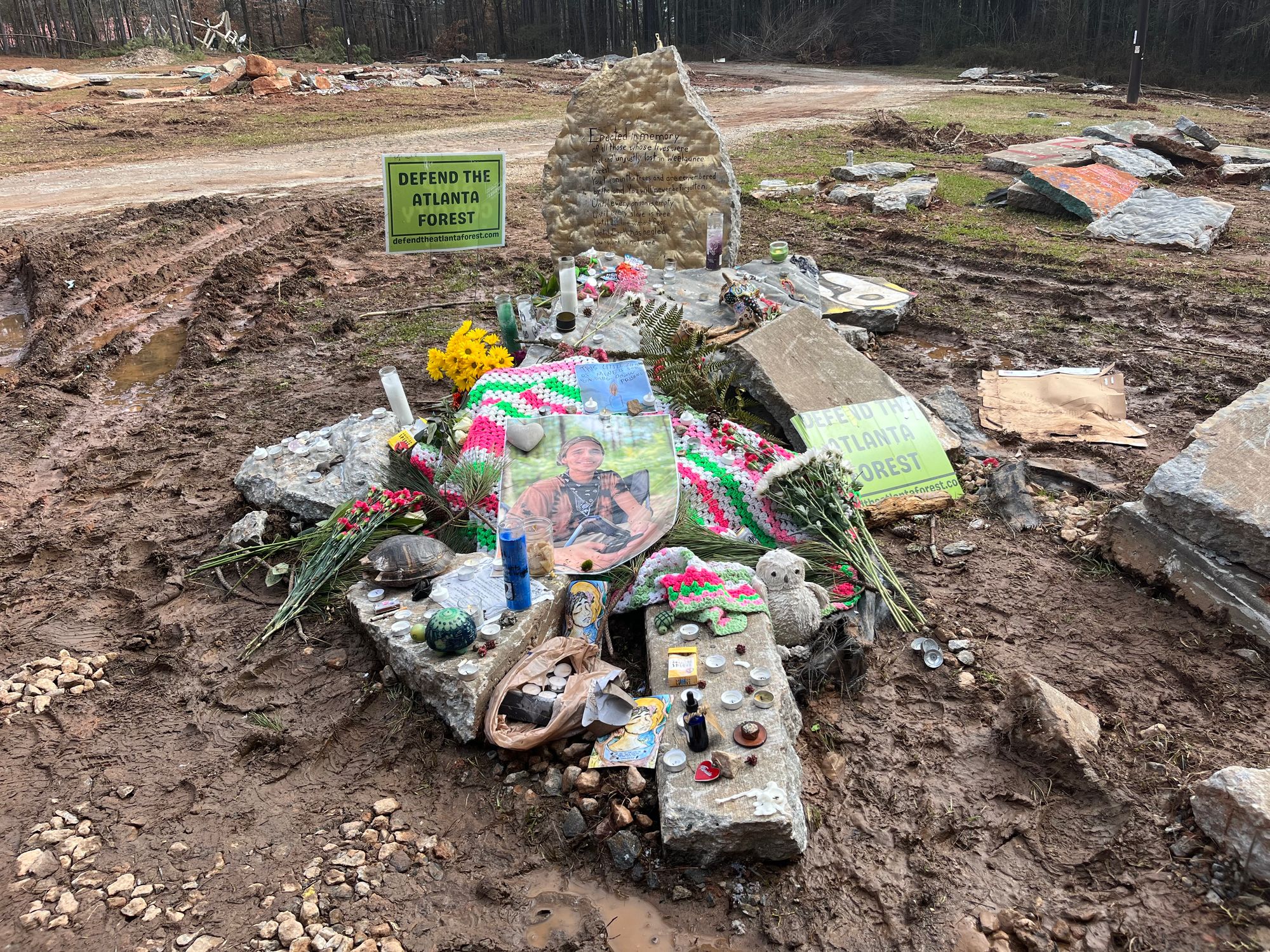 ---
Please help pay for great reporting like this if you are able to do so. Here's a coupon for 30% off a yearly subscription, good until the end of the week.
You may have missed this paid-only dispatch from Canada last week about the ongoing idiotic resistance to "15-minute cities."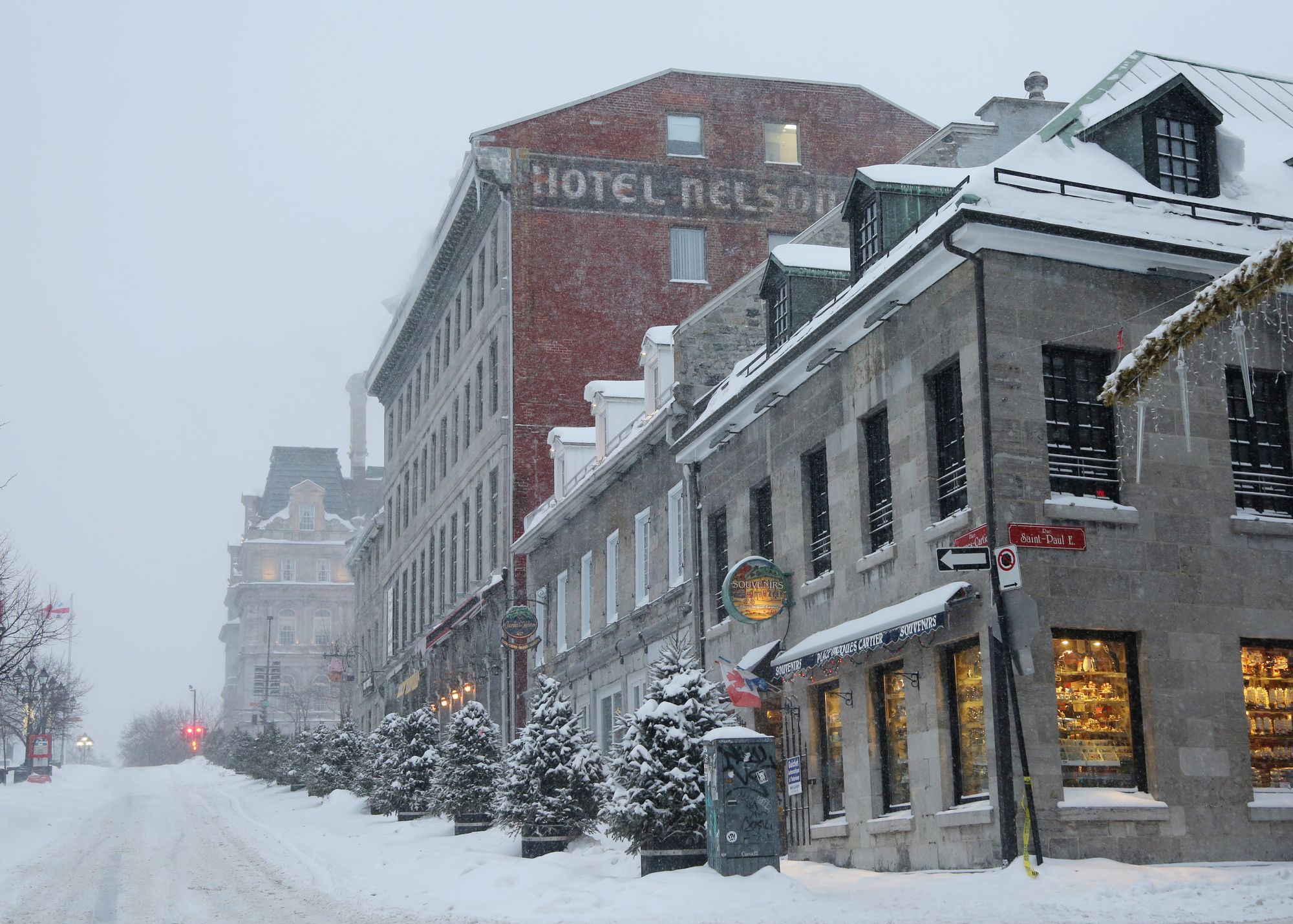 Or this one from the other day when I was fully on my bullshit about having a midlife crisis during an actual worldwide crisis.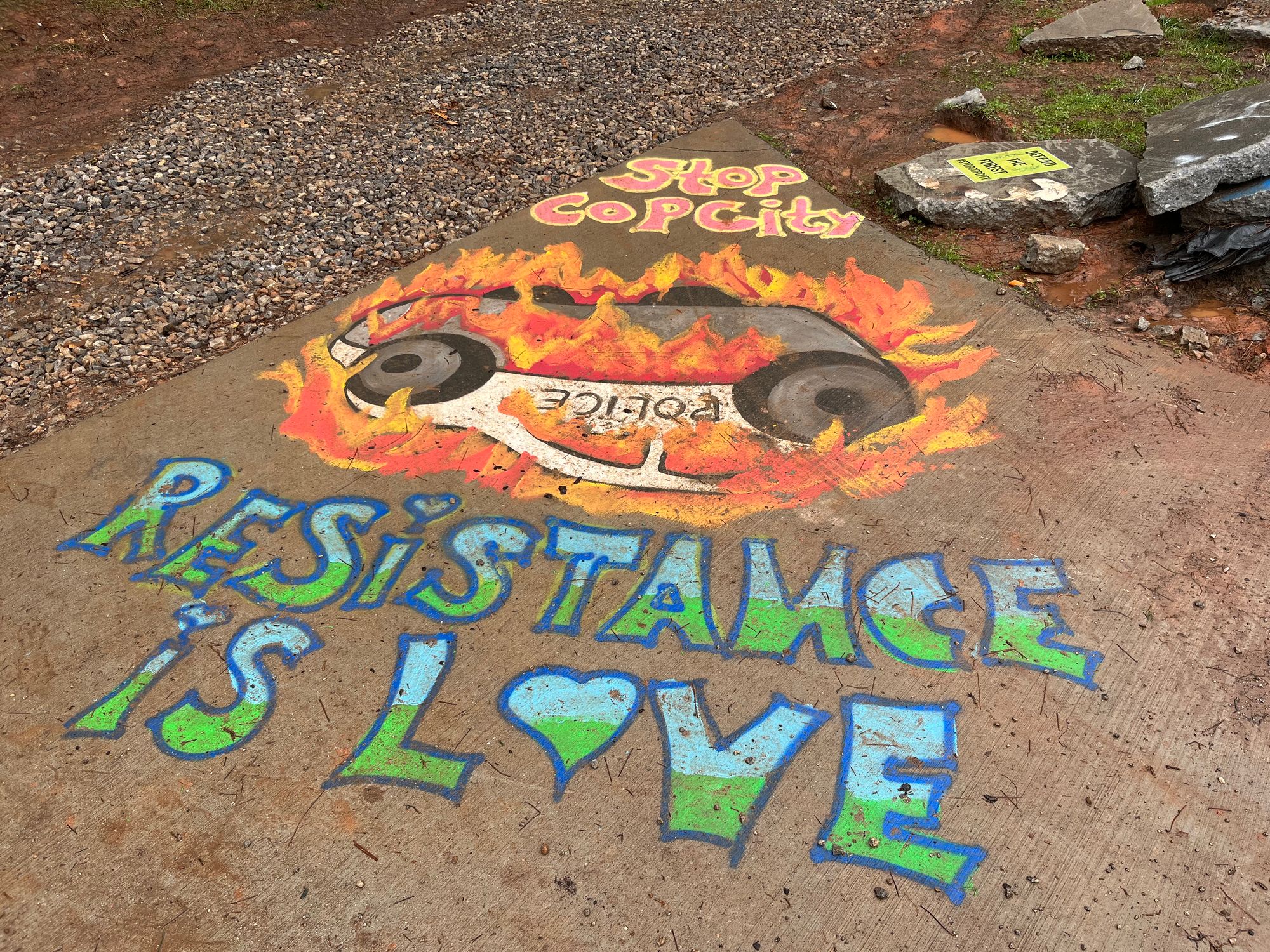 A solidarity that is only growing
by Micah Herskind

"My heart is destroyed."
These are the words of Belkis Terán, whose child Manuel Esteban Paez Terán—or Tortugita—was killed by a squad of Georgia State Patrol troopers on January 18, 2023. Tortugita, who used they/them pronouns, was killed while participating in the defense of at least 85 acres of forest land in the Weelaunee Forest—a site that has been slated for destruction by the City of Atlanta, to be replaced with a $90 million police militarization facility known as "Cop City."
Since it was first proposed in early 2021, Atlanta's residents have been fighting the push to destroy this critical forest land—referred to in one city report as one of the "four lungs" of Atlanta—and to build what would be the largest police training center in the country. The movement that sprouted up to take on Cop City led to over 17 hours of public comment before the City Council, the vast majority of which was in opposition to the facility. Despite the public outcry, council members ignored their constituents, siding instead with corporate-backed actors like the Atlanta Police Foundation and the Atlanta Committee for Progress to ram the proposal through. But while the city might have hoped that the 2021 vote would put an end to the movement, the opposite happened: the fight to Stop Cop City has become a national and international cause.
Speaking at a press conference on March 13, Ms. Terán was referencing the results of an independent autopsy that was released this week that casts further doubt on the state's narrative regarding Tortugita's murder.
The autopsy confirmed that Tortugita was shot at least 14 times, by various weapons, all over their body, and was most likely killed by a fatal shot through the head. In a significant refutation of the Georgia Bureau of Investigation's (GBI) claim that Tortugita was killed after first ambushing police officers with gunfire, the autopsy found that Tortugita was "most probably in a seated position, cross-legged, with the left leg partially over the right leg" and with their hands and arms up in front of their body when they were killed. While the report could not confirm whether Tortguita may have shot a gun, it found no traces of gunpowder that would likely be associated with such a scenario.
"Manuel loved the forest," said Ms. Terán. "It gave them peace. They meditated there. The forest connected them with God. I never thought that Manuel could die in a meditation position."
To date no names of the officers involved in the killing of Tortugita have been released. Nor has the state's own autopsy been released. Since its initial, selective release of information to paint Tortugita as an aggressor who deserved to die, the GBI has gone mostly silent—now claiming that "the GBI cannot and will not attempt to sway public opinion in this case but will continue to be led by the facts and truth."
This position was nowhere to found when the GBI released a picture of a handgun it claimed belonged to Tortugita, or in its initial press release asserting a narrative that body camera footage has since called into question (and certainly not in the agency's many frenetic replies on Twitter to those commenting on the inconsistencies in the GBI's story).
Despite continued requests, the GBI has also refused to meet with or release more information to a family that is understandably desperate for answers. After the Atlanta Police Department (APD) released body camera footage in which two APD officers speculated that the officer who was shot during the January 18 raid was not shot by Tortugita, but rather by "friendly fire," the GBI intervened and asked the City not to release any more information.
"It appears there has been a coordinated campaign to silence the City of Atlanta, and it worked," said Wingo Smith, one of the attorneys for the family.
The city is now being sued for a violation of Georgia's Open Records law.
"My life has been frozen with Manny being guilty until proven innocent," said Tortugita's brother, Daniel Paez, at the press conference. "I can't even attend a vigil for Manny without ten cop cars showing up or a low-flying helicopter showing up to intimidate us."
The police repression Paez describes is not unique to vigils for Tortugita. March 11 marked the end of the Stop Cop City movement's fifth Week of Action over the past year and a half—a week that saw perhaps the most extreme police repression yet.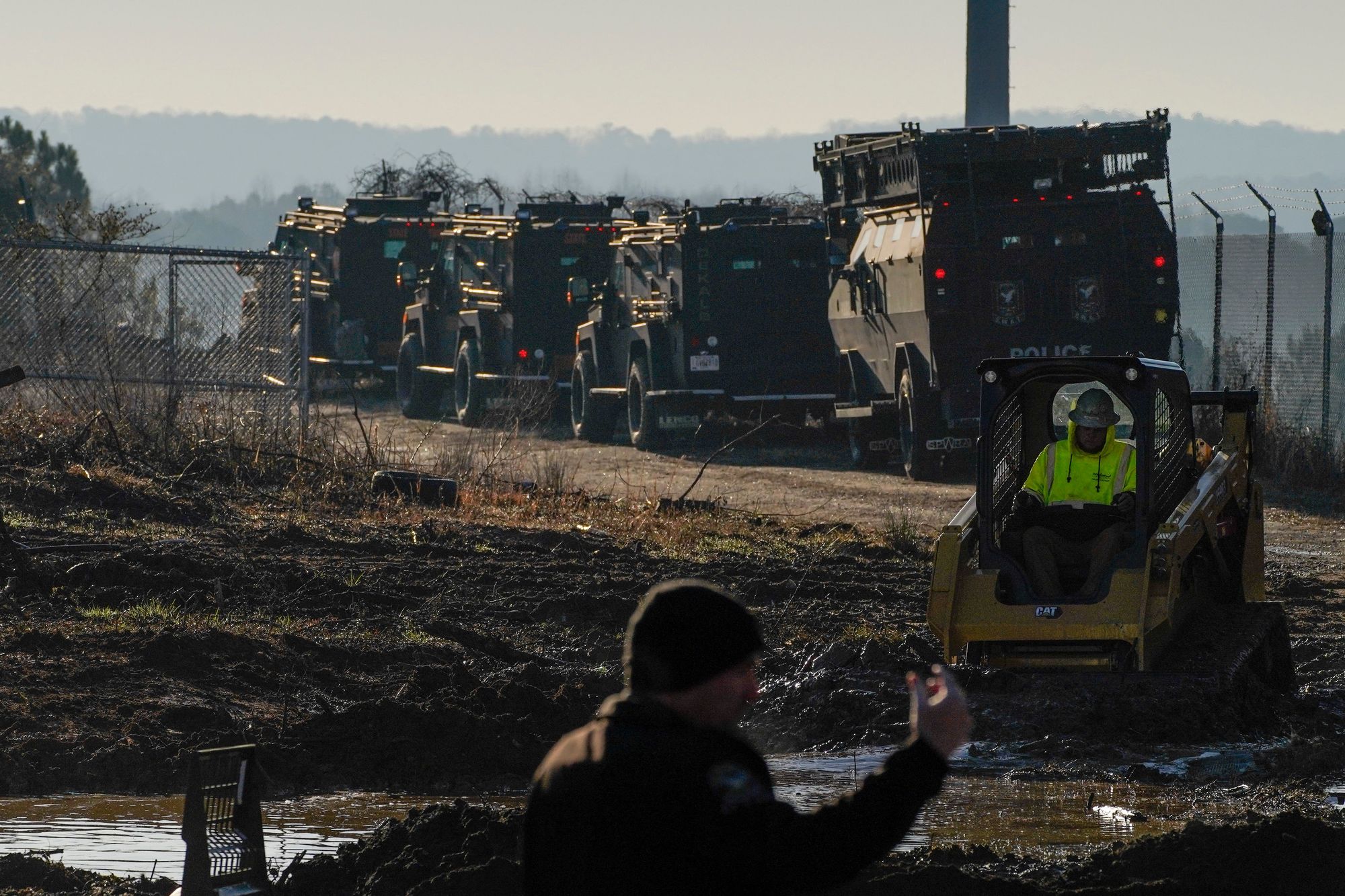 Police have worked to intimidate and suppress the movement from its inception. On the day of the final City Council vote in favor of Cop City in September 2021, police arrested 11 protesters who were demonstrating outside a council member's house. Protesters were there because council meetings were still being held virtually, with members participating in meetings from their homes. Since then, there have been continual arrests and harassment of protesters. Following a peaceful May 2022 rally, police arrested 17 people who were dispersing from the rally. Ashley Dixon, an organizer with Showing Up for Racial Justice, was one of the arrestees. As protesters were leaving and conversing on the sidewalk, Dixon told me, "A police officer came running towards us and handcuffed us to each other…telling us we were under arrest and charged with 'pedestrian in the roadway', even though we were just standing on the sidewalk." Just days later, police made 8 more arrests in the forest.
The state's tactics have only escalated in recent months. In December 2022, police arrested five forest defenders on charges of domestic terrorism, in the first documented use of a 2017 Georgia statute that advocates warned would be used just like this to target social movements. Arrests during the January 18 raid, during which police killed Tortugita, and at a protest on the following weekend brought the total number of domestic terrorism arrestees to 19. Analysis of the arrest warrants by Grist at the time showed that nine individuals charged with domestic terrorism were not alleged to have committed anything more serious than misdemeanor trespassing.
As criminalization of protesters has increased, so too has interest from human rights organizations across the world. On March 3 a group of over 30 civil rights organizations led by Human Rights Watch sent a letter calling on the Georgia Attorney General and other prosecutors to drop the domestic terrorism charges against protesters, denouncing the charges as "a clear attempt to silence dissent by smearing an activist movement as terrorism-prone."
Two days later, police would more than double the total number of individuals charged with domestic terrorism.
Like so much of the violence that has been committed against those involved in the Stop Cop City movement, it all went down in the Weelaunee Forest. During the opening weekend of the Week of Action, organizers held a two-day festival on county park land that drew over a thousand people. It was a magical weekend. Artists from all over performed. Free food was served to all who showed up. At one point on Saturday the burgers ran out; someone came over the microphone announcing that they had the money to buy more, but would need a ride. Someone quickly volunteered, and the party went on. Festival-goers enjoyed the serenity of the land and the peace of the festival, while their children played in a bouncy house and ran around the field.
On Sunday night, everything changed. Reflecting the diversity of tactics of the autonomous and decentralized movement, a group of activists engaged in a targeted direct action about a mile away from the festival during which they sabotaged machinery that would be used to destroy the forest and build Cop City. Nearly every metro Atlanta police force you can think of quickly rushed to the scene—not the scene of the action, but rather of the music festival, where police mass detained at least 35 people, some of whom had no evidence of involvement in any protest activity beyond "having mud on their shoes" (at a festival in a forest!)
As reported by The Intercept, despite originally detaining at least 35 people, police selectively released all but two of those who had Georgia licenses and arrested those from out of state in order to further the counterinsurgent narrative that the movement is made up just of "outside agitators." Twenty-three people were taken to the DeKalb County jail, and all but one were denied bond—meaning they are currently sitting in jail for weeks until they can appear before a Superior Court judge to have their bond reconsidered. The only individual released on bond was a legal observer—a Southern Poverty Law Center attorney who was at the festival, wearing a bright green hat, specifically to monitor police activity and document any violations of required police conduct.
What do we do when even those tasked with documenting police violence become the victims of police violence?
Despite the Atlanta police chief saying that this was a highly professional operation, footage from one individual shows a police officer threatening to shoot someone—not an empty threat, considering that police have already killed one forest defender in the forest. Reporters were pushed off the scene. One journalist was (falsely) told by a police officer who noticed her out-of-town license plate that it was a felony to travel across state lines to engage in a protest. An indigenous activist who had come to enjoy the festival was tased and arrested. Police pointed guns into the bouncy house where children had been playing not long before.
Near the end of the raid, a group of roughly 100 people, including children, remained. In a beautiful act of solidarity, they linked arms and chanted "Let us go home!" and "We have children!" Despite being threatened with domestic terrorism charges, their solidarity ensured their safety, as a team was sent to negotiate their exit from the area.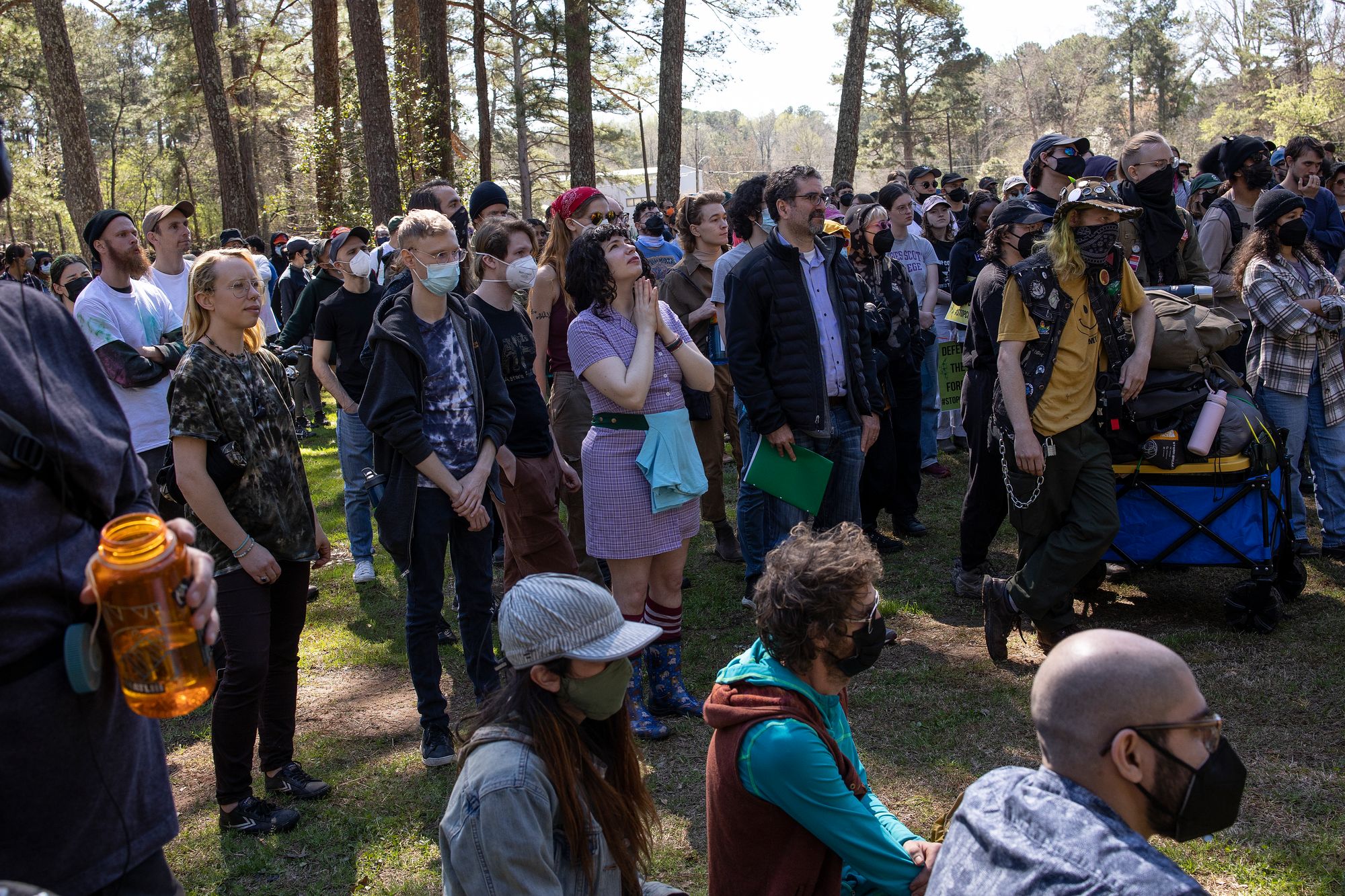 Police intimidation of the movement continued throughout the Week of Action, a time during which Atlanta was, according to Truthout reporter Candice Bernd, a "Constitution-free zone." Activists who passed out fliers downtown were met by over 50 police officers and a SWAT team and made to disperse under threat of arrest. Individuals who engaged in banner drops over highways were detained, questioned for hours, and thoroughly photographed on the grounds of "littering." Any time crowds gathered throughout the week, they were met with SWAT teams, heavily armored police, and a disproportionate police presence. Bernd herself was stalked and nearly detained by police while departing a protest that she was covering. On the final day of the Week of Action, APD and Homeland Security raided and ransacked the Lakewood Environmental Arts Foundation, a site that organizers used as a welcome center and medical hub throughout the Week of Action. Police used a warrant stating that there was probable cause to believe the site would contain evidence of "conspiracy to commit domestic terrorism."
After detaining dozens of people for hours, they ultimately arrested one person for an unpaid traffic ticket.  
Jasmine Burnett, the Organizing Director for Community Movement Builders, has been organizing against Cop City since it was proposed, and witnessed the overwhelming show of police force throughout the week. "The police presence was extreme," Burnett told me. "It was clear that they came out intentionally to try to intimidate us." According to Burnett, the police were prepared with zip ties, and numbered roughly three officers for every protester. Police made it clear that "they were ready, willing, and prepared to do mass arrests if they could find a justification for it."
As Burnett describes, this was especially jarring given the peaceful nature of the protests, and in particular following the Sunday night arrests where "police were threatening to kill people who were simply at a music festival."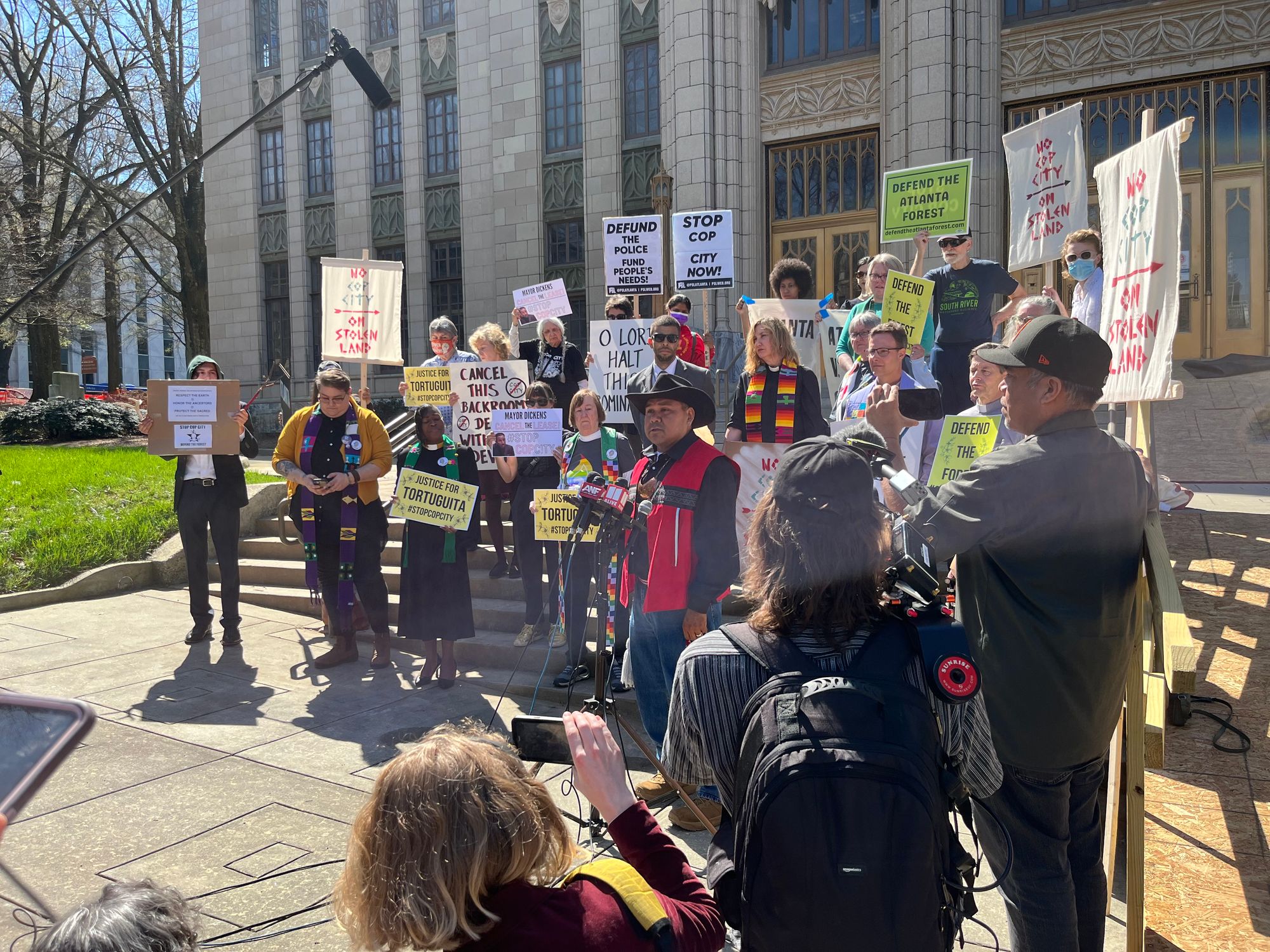 Despite the extreme repression, the Week of Action was also a reminder of the strength and diversity of the movement. On March 6, clergy hosted a press conference outside of Atlanta City Hall in which they issued a moral and spiritual call to not just halt the Cop City project, but also to engage with the Black community surrounding the forest land and the Muscogee people from whom the land was originally stolen to create a new vision for the space. Throughout the week, activists targeted various corporate funders of the Atlanta Police Foundation with nonviolent direct actions, urging them to drop their support for the project. A rally on March 9 hosted by Black-led organizations including Community Movement Builders (CMB), the Movement for Black Lives, Black Voters Matter, and others, demanded an end to Cop City, and dispelled the city's attempts to characterize the movement as a white one.
"Mayor Andre Dickens, is this enough Black folks for you?" asked Kamau Franklin, the founder of CMB, at the march attended by roughly 400 people.
The same week, Muscogee activists whose ancestors were violently displaced during the Trail of Tears returned to Atlanta. Some of the activists entered a meeting where Mayor Andre Dickens was present and read an eviction notice to the Mayor and the City. "Cop City cannot be built at all. As the original relatives of this land and as ceremonial Mvskoke people, we stand in solidarity with the Black residents of Atlanta in opposition to continued genocide via cop city," read the eviction notice.
The Week of Action ended with a youth-led rally, where hundreds marched through the streets. One child read a poem about the forest, urging "Don't, don't, don't cut down the trees."
In continued signs of the movement's determination to care for each other, organizers have hosted multiple vigils outside the DeKalb County jail, a hell hole where those arrested have been denied adequate food, water, and medication. Groups like the Atlanta Solidarity Fund continue to coordinate legal representation for those who have been criminalized for their (perceived) participation in the movement. Organizers have hosted grief circles, food distribution events, tours of the forest, mushroom walks, herbal medicine workshops, and other spaces for communal care and political education.
In recognition that the state will not meet people's needs, those fighting Cop City are doing it themselves.
More broadly, since the murder of Tortugita, the movement has continued to grow. Organizations and individuals from across the country have pledged their solidarity. National and international spotlights have been shone on Atlanta. Responding to calls from local organizers, people have flooded the city to support the movement. Students and faculty at HBCU's like Spelman and Morehouse have written statements and hosted actions denouncing Cop City, even as their presidents sit on the boards of organizations supporting the destructive project.
As the fifth Week of Action made clear, the movement to Stop Cop City isn't going anywhere. Organizers are in it for the long haul. Atlanta's residents do not support Cop City, even if its corporations do. At the end of the day, there are two sides. One is fighting for a livable future, free from the violence of policing, where everyone has what they need to survive and thrive. The other side is sending police to point guns inside of bouncy houses, rounding people up on dystopian domestic terrorism charges, and tearing down precious forest land.
As Tortugita's mother said, while the movement has been full of pain, it has also inspired a solidarity that is only growing. "I'm suffering," Ms. Terán said. "But this suffering is giving me power. Power to fight, power to stand."
Micah Herskind is an organizer, policy advocate, and writer based in Atlanta, GA.
---
SUBSCRIBE NOW PLEASE AND THANK YOU